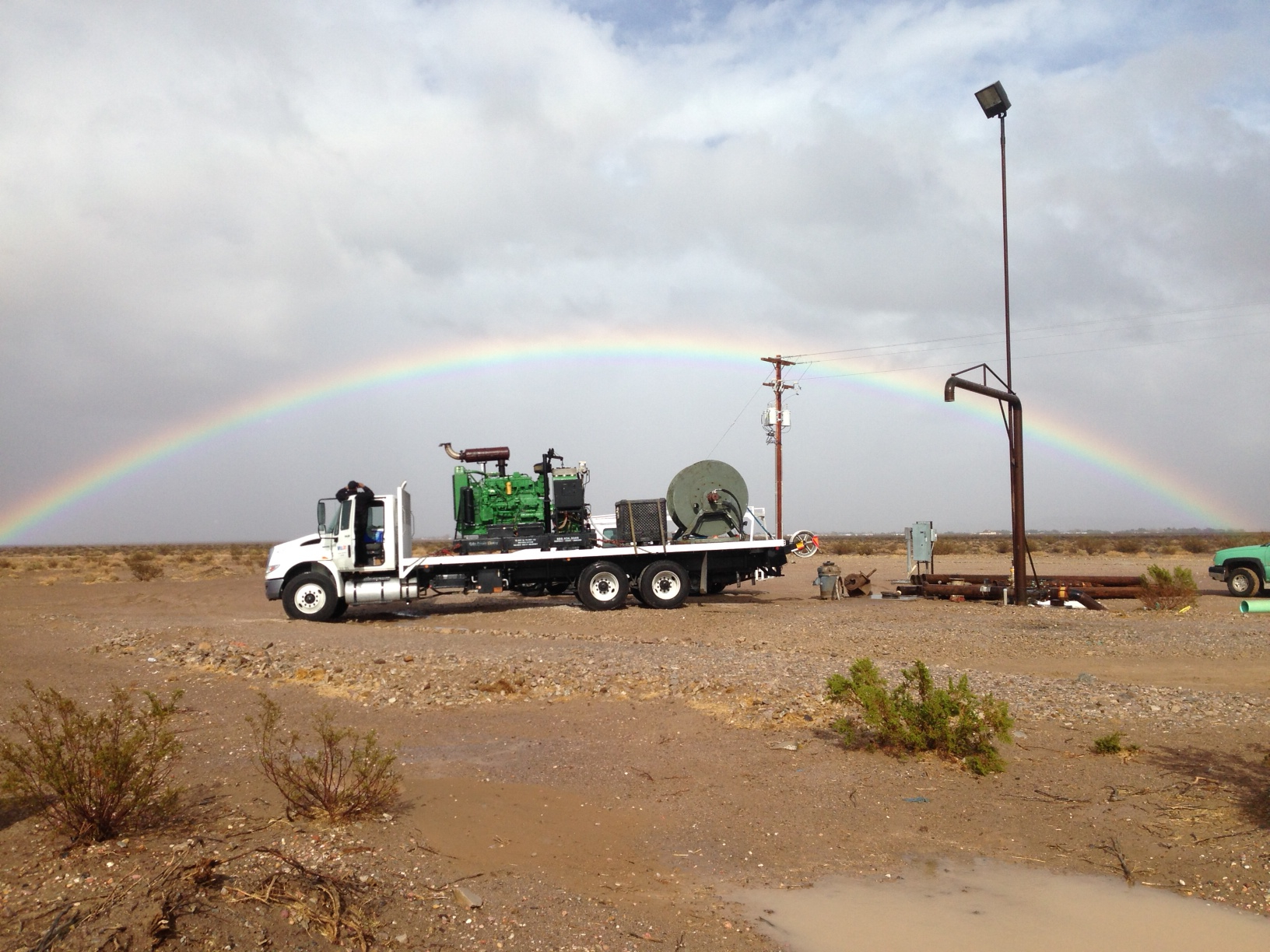 "WHY DO WELLS GO BAD?"
It's simple, really: wells go bad because they get clogged up. Whether it's calcium carbonate, iron bacteria, manganese, clay, silt, sand, drill mud or biofouling, when enough foreign matter gets into the perforations of the well screen, performance suffers. But blocked perforations are only the tip of the iceberg. The real obstructions lie behind the well screen, in the gravel pack.
"WHAT ABOUT TRADITIONAL REHAB EFFORTS?"
Most methods for rehabilitating underperforming wells have been around since the last millennium: brushing, scraping, chemicals, dry ice, explosives, bursts of compressed gas, etc. All of these methods can remove deposits from the well screen. But what they can't do safely, consistently, or effectively is go beyond the well screen, into the gravel pack.
"HOW IS WELLJET® DIFFERENT?"
WellJet®, the unique process invented by HPC founder Jeff Glass, utilizes an array of custom-built, high-pressure self-rotating nozzles jetting streams of water into the well. Like traditional methods, WellJet® thoroughly cleans the well screen. But in addition, WellJet® penetrates deep into the gravel pack, breaking up those deposits that are the true cause of deteriorating well performance. Silt, sand, clay and drill mud are all dislodged, opening up the filter zone so that the aquifer can flow freely again. No other method can consistently accomplish this previously elusive goal. Although others have used some forms of "water-jetting," they all operate at less than 10,000 psi – which may remove some deposits, but not all. And no other jetting system has WellJet's patented internal tool design, which enables us to generate so much energy into the gravel pack.
"WILL WELLJET® HURT MY WELL?"
No. Experience has shown us that obstructive deposits inside wells have a bonding strength of about 15,000 psi. WellJet operates at up to 20,000 psi – more than enough to break those bonds and remove the obstructions. But steel – even the mild steel used in most well construction – has a yield strength of 35,000-55,000 psi. WellJet® will not damage intact casing. Having said that, it is true that eventually, a steel pipe in the ground will deteriorate. Over time, casing integrity can be lost – in which case a well must be lined or abandoned. In some rare cases, WellJet® may reveal pre-existing damage that had been hidden by encrustation.
"IS WELLJET® ALL I NEED TO RESTORE MY WELL'S PERFORMANCE?"
In some cases, yes. With a fast-moving aquifer, the jetting process alone may restore performance and efficiency . In most cases, additional steps are recommended. These may include surge-blocking, chemical treatment to destroy the potential for bacterial re-growth, and evacuating the debris from the bottom of the well.
"HOW WILL I KNOW WHAT OTHER STEPS ARE NEEDED?"
After WellJet® is utilized, downhole video of the results is recommended. If the water is clear and free-flowing, the job is done. If not, additional work may be in order. But analysis of the water, and visual inspection of the well, will reveal exactly what additional steps are needed – and in which order those steps should be taken.
"WHAT KIND OF RESULTS CAN I EXPECT?"
Every well rehabilitation is different. But WellJet has improved performance up to 1,000%.
"DOES WELLJET® ALWAYS WORK?"
Over the past several years, WellJet® has built up an impressive track record of success. But there are no guarantees. In some cases, follow-on steps are not performed. In those few isolated incidents, although WellJet® has opened everything up, not all of the debris has been removed. The net effect is some improvement, but not the dramatic growth that could have been obtained with proper follow-through.
"WHAT'S THE BOTTOM LINE?"
WellJet® represents a quantum advance in the field of well development and rehabilitation. No other method can match WellJet's ability to generate pressure downhole. In certain cases, WellJet® is just one – albeit the most important – element in a comprehensive program that should be followed to obtain the best results.