Restoring Efficiency and Reducing the Cost and Carbon Footprint
of Groundwater Wells Around the Globe
Ten years ago, Jeffrey B. Glass, founder and president of HydroPressure Cleaning, Inc., received US. Patent No. 8,312,930 B1, for WellJet®, "Apparatus and Method for Water Well Cleaning." A decade of research, development, experimentation, testing, prototyping and field experience was rewarded.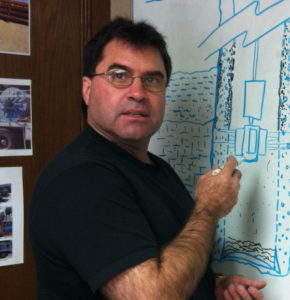 Prior to inventing WellJet®, Mr. Glass had spent more than twenty-five years designing, building, adapting and deploying high- and ultrahigh-pressure waterblasting tools in a variety of disciplines ranging from hydrodemolition to surface preparation to abrasive cutting. He has worked on bridge decks, airport runways, naval vessels and nuclear reactors. Seeking a new challenge, Mr. Glass believed that high-pressure waterblasting, properly utilized, would be a powerful tool for water well development and rehabilitation. With the WellJet® patent, Mr. Glass had the freedom and opportunity to test that belief in an industry where most methods of well cleaning had not evolved in decades.
WellJet® has since been used to successfully develop and rehabilitate more than a thousand wells all over the world, from the lush islands of Hawaii to the harsh deserts of the Middle East.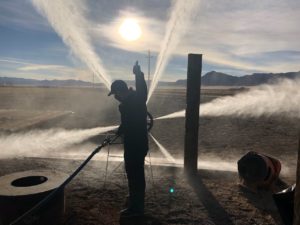 Experience, performance and results have proven that WellJet® delivers more energy downhole than any other method. The delivery mechanism ensures minimal pressure loss, while the unique nozzle array ensures laminar flow up to 10" from the nozzle tips, at velocities exceeding 1,700 ft/sec – allowing unprecedented penetration into the gravel pack and near-wellbore formation to break up the harmful deposits that prevent the free flow of water from reaching the pump bowls.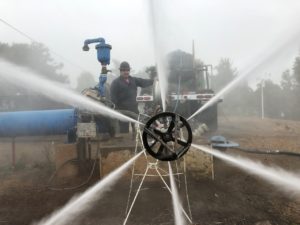 WellJet® operating pressures for steel wells ranges between 15,000-20,000 psi. Mr. Glass arrived at this optimal pressure range through extensive testing and experimentation, which showed that this range, combined with a flow rate of 35 gpm, would overcome the bonding strength of the most tenacious deposits in steel wells, while not jeopardizing intact steel, which has yield strengths ranging from 35,000 for stainless steel up to 55,000 for some types of carbon steel.
Too little jetting pressure can lead to ineffective results; too much pressure can damage the screen.
In the early days, WellJet® was often called in on well development and rehabilitation projects only after other methods had been tried – and failed.
A prime example was with Corcoran Irrigation District's Well #10, which had been drilled to a depth of 780' in the mid-1950s. Once a reliable producer of over 800 gpm, #10 had suffered several breaks (requiring 15 patches), a collapse that caved in the bottom 240' of perforations, and a consequent loss of both output and efficiency. CID had idled the well for three years and was planning to abandon it. WellJet brought #10 back to life to the tune of 800 gpm – and it is still producing efficiently today, almost ten years after that initial WellJet rehab.

WellJet's success with #10 eventually led to more than 30 additional rehabs for CID wells, including projects that had not responded to other methods – with more on the horizon.
Another early challenge was for the Los Angeles Department of Water and Power, whose NH26 well had resisted determined efforts to remove tenacious deposits of severe encrustation. WellJet teamed up with Layne Christensen to open up the well. This success led to an ongoing working relationship with Layne and LADWP on numerous additional wells over the past several years.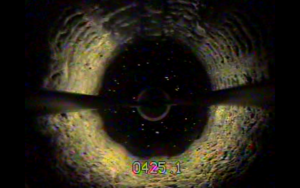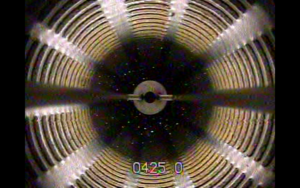 WellJet's unique capabilities led to its first international project in 2013, aiding in developing the 55 new production wells drilled in southern Jordan to supply the Disi-Mudawarra Water Conveyance Project.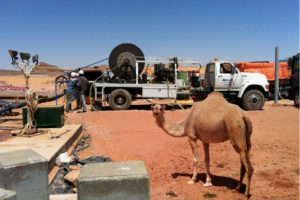 These deep wells (depths to 1,900') were constructed in a very tight sandstone formation that did not respond to conventional development. WellJet was brought in as the massive project was nearing completion, and travelled halfway around the world to assist in developing the last several wells. WellJet improved efficiency in the treated wells by an average of 200% – which led to a permanent WellJet presence in the Middle East.
Another successful Middle East project was WellJet's rehabilitation of an entire 21-well field for the Jordan Phosphate Mining Company. The wells had been drilled 25 years earlier. WellJet improved flow rates over 120% vs prior to rehabilitation – and 20% over original performance when the wells first when online more than two decades previously.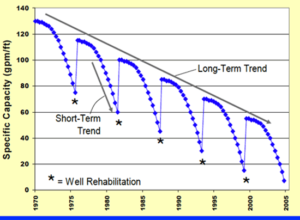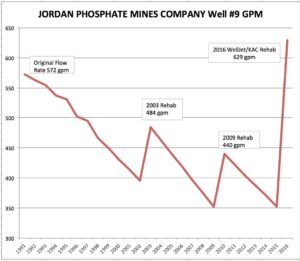 (above left) Typical groundwater well performance degradation/rehabilitation curve. (above right) WellJet breaks the typical curve, returning wells to original/better-than-new performance.
WellJet has improved performance and extended the working lifespan of wells throughout California's Central Valley, as well as in Arizona, Nevada, Hawaii and Texas. WellJet has successfully treated ag wells, mine wells, municipal wells, residential wells and monitoring wells. WellJet works on all types of steel and plastic casing (WellJet operating pressures in plastic wells are much lower than in steel). WellJet is effective on all types of perforations, whether louvers, wire-wrapped screen, milled slots or torch-cut. Every element in the WellJet process – tool size, pressure, rotational speed, retrieval rate – is adjustable based on downhole conditions.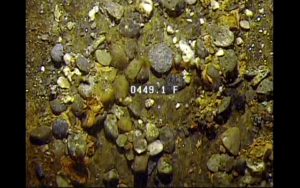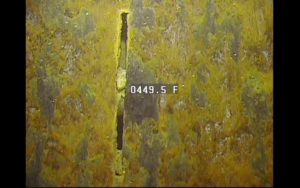 WellJet works hand-in-hand with drillers, pump companies, consultants, hydrogeologists and engineers – as well as directly with well owners and operators.
WellJet is capable of developing or rehabilitating wells of any diameter from 2" on up, and at depths down to 2,400'. Jeff Glass is continually refining and upgrading the WellJet process, to improve performance, raise efficiency, and expand capabilities.
WellJet looks forward to its next decade of helping water well owners and operators deliver our most precious resource in the most efficient, economical and sustainable manner.
For more information or to inquire about WellJet availability, contact Charlie at 818-292-7135, or email ccarner@welljethpc.com