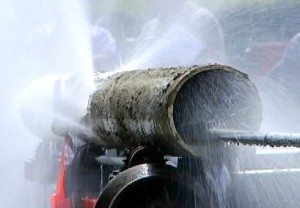 California-American Water Company, Countryside Well #2
The well was located in an urban area with limited access.  Previous rehabs of similar Cal-Am wells were extremely expensive, because adjacent properties had to be purchased, and homes demolished, to make room for big rigs to get in and perform traditional rehabilitation techniques. WellJet's smaller footprint obviated the need for such drastic measures.
Another Cal-Am concern was the desire to avoid the introduction of chemicals into the municipal water system. WellJet uses only water and pressure to clean the well screen and open up the gravel pack.
Countryside Well #2 had suffered a 46% drop in production due to heavily plugged screens, and clogging in the filter zone.
WellJet blasted the entire perforation range from bottom to top, cleaning 100% of the perfs.  Kirby Pump & Mechanical followed with surging, and bailed out the fill.
After WellJet, production was restored to 92% of what this 28-year-old well delivered when brand-new. WellJet is now in the process of restoring another well for Cal-Am.
Drill date: 1984
Specs:  506' depth, 16" ID, Johnson stainless-steel wire-wrapped screen
Original production (1984): 1300 gpm
Pre-WellJet production (2011): 700 gpm (-46%)
Post-WellJet production: 1200 gpm (+71%)