WellJet/KAC Rehabilitation Case Study: JPMC Well #9

WellJet, in association with its Jordanian partner Khost Aqua Consult (KAC), recently successfully completed its first of 21 water well rehabilitations for the Jordan Phosphate Mines Company. This project is part of WellJet's global growth initiative, beginning with the water-challenged environments of the Middle East-North Africa region, and expanding worldwide.
Phosphate, used in agriculture and industry around the world, is one of leading exports of the Hashemite Kingdom of Jordan, providing the nation's treasury with much-needed foreign trade income.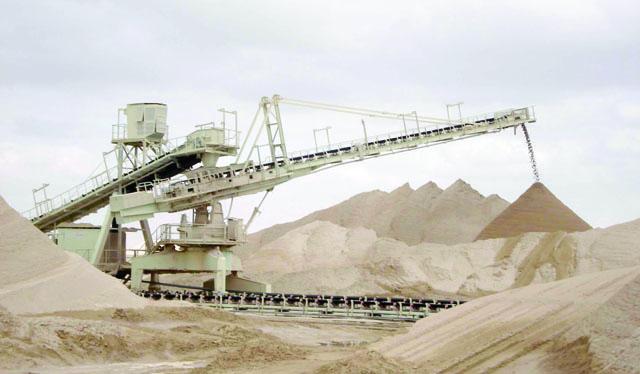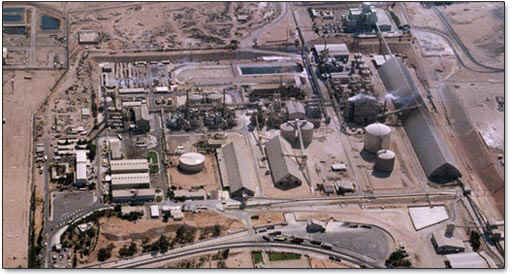 Large quantities of water are required to recover phosphate, via slurry that is processed to separate the mineral from sand and clay in the matrix.
The Jordan Phosphate Mining Company (JPMC), Jordan's only phosphate mining company, operates three mines – Russeifa, Hassa and Eshidiya.
The Eshidiya mine is located in southern Jordan, east of Al Jafr, in the Ma'an Governate. And it is here, to this remote desert, that WellJet recently deployed – to perform its patented rehabilitation process on the wells that provide water to the mine.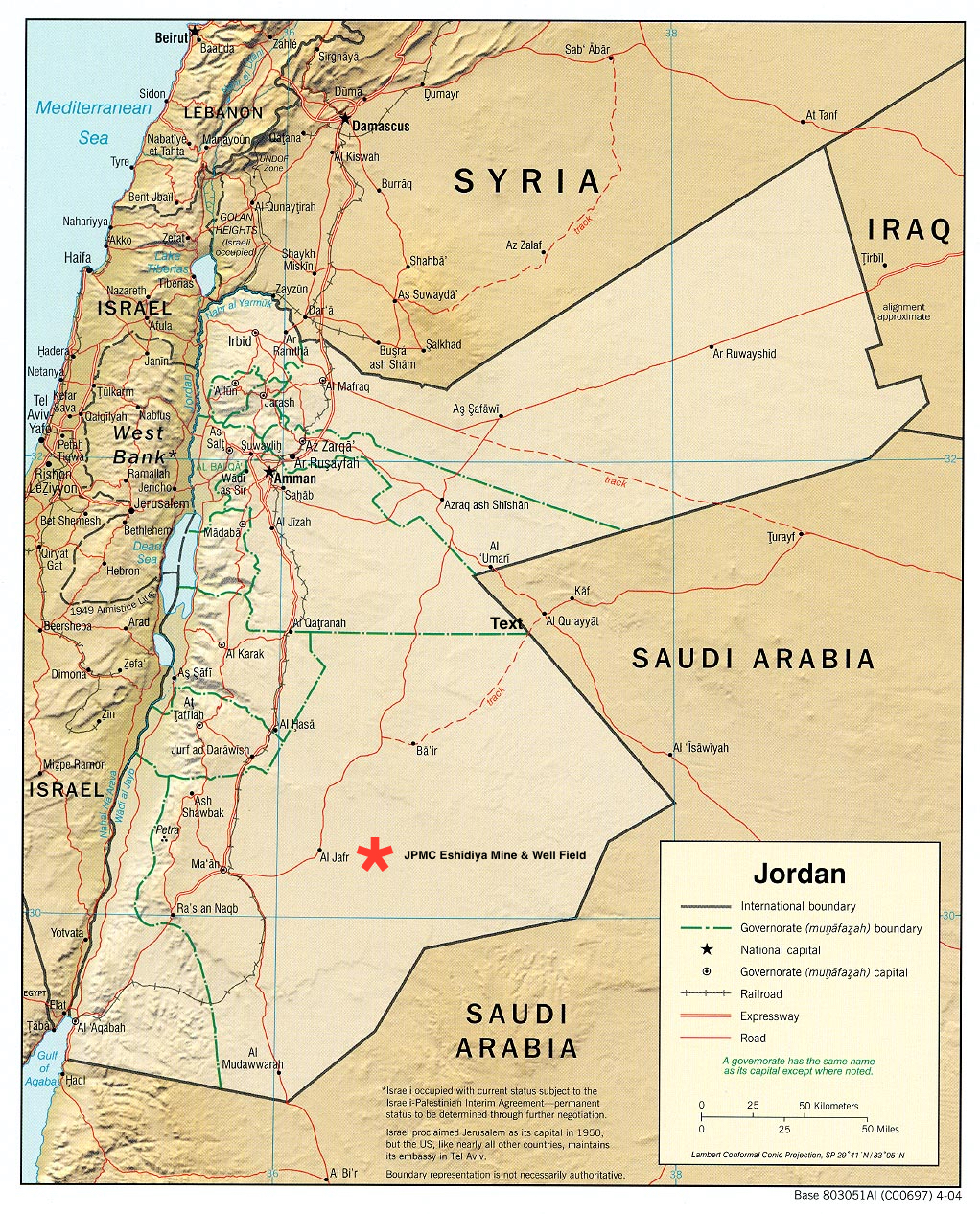 The WellJet/KAC rehabilitation program began with Well #9. Drilled in 1991, to a total depth of 774' (236m), 13" ID (33cm), with wire-wrapped screen perforations from 534-761' (163-232m).
The blank casing is mild steel, while wire-wrapped screen in the production area is made from stainless steel – because of the high sulfur content in the water.
At the time of drilling, the Static Water Level in the well was 288' (88m). When new, Well #9 produced 572 gpm (130 m3/hr), with a drawdown of 49' (15m), for a specific capacity of 11.7.
Over the ensuing years, production and efficiency declined. Various rehabilitation efforts were made, but recovery never regained original performance levels.
The well, in operation for 25 years, exhibited a declining flow rate and efficiency profile consistent with the industry-accepted generic profile shown below: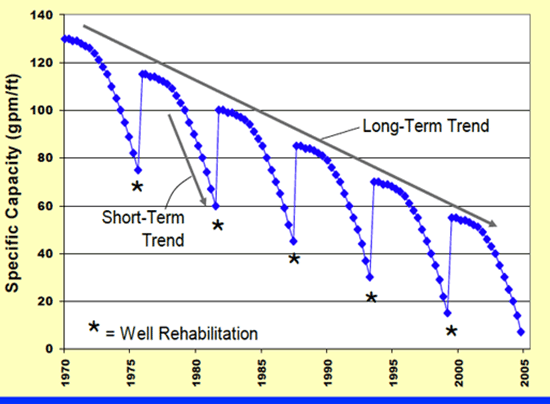 Finally, in 2016, Well #9 was down to 352 gpm (80 m3/hr), with a drawdown of 121' (37m), for a Specific Capacity of just 2.9. Static Water Level in the well had declined by 17' (5m) to 305' (93m).
Downhole video showed extreme plugging throughout the screened area, as well as heavy buildup of iron scale on the blank casing.
WellJet jetted the entire perforated area with its patented high-pressure tool and process, removing the obstructions inside the screened area and penetrating into the gravel pack to break up harmful deposits preventing free water flow. At JPMC's request, WellJet also blasted the blank casing to remove buildup of iron scale.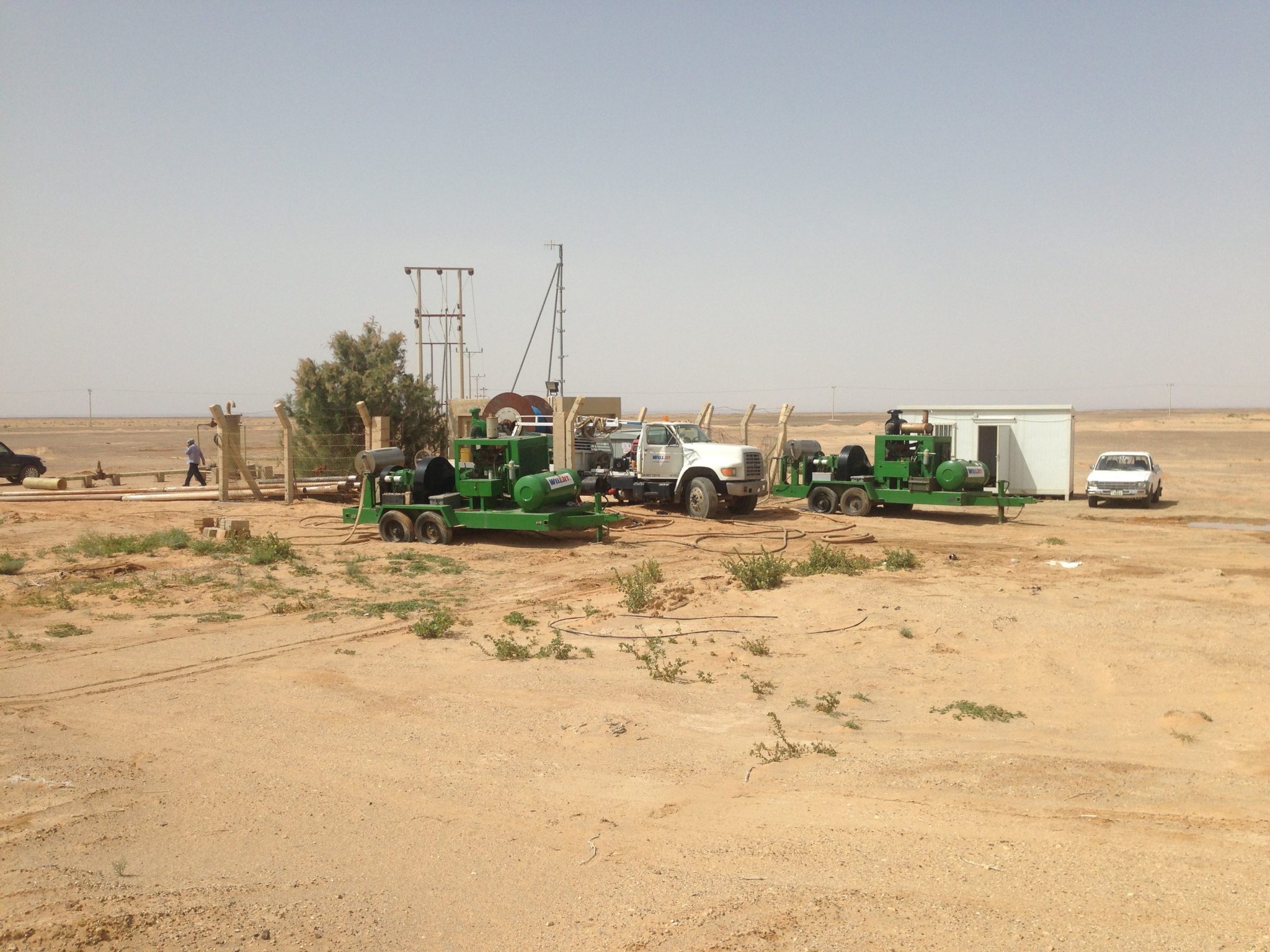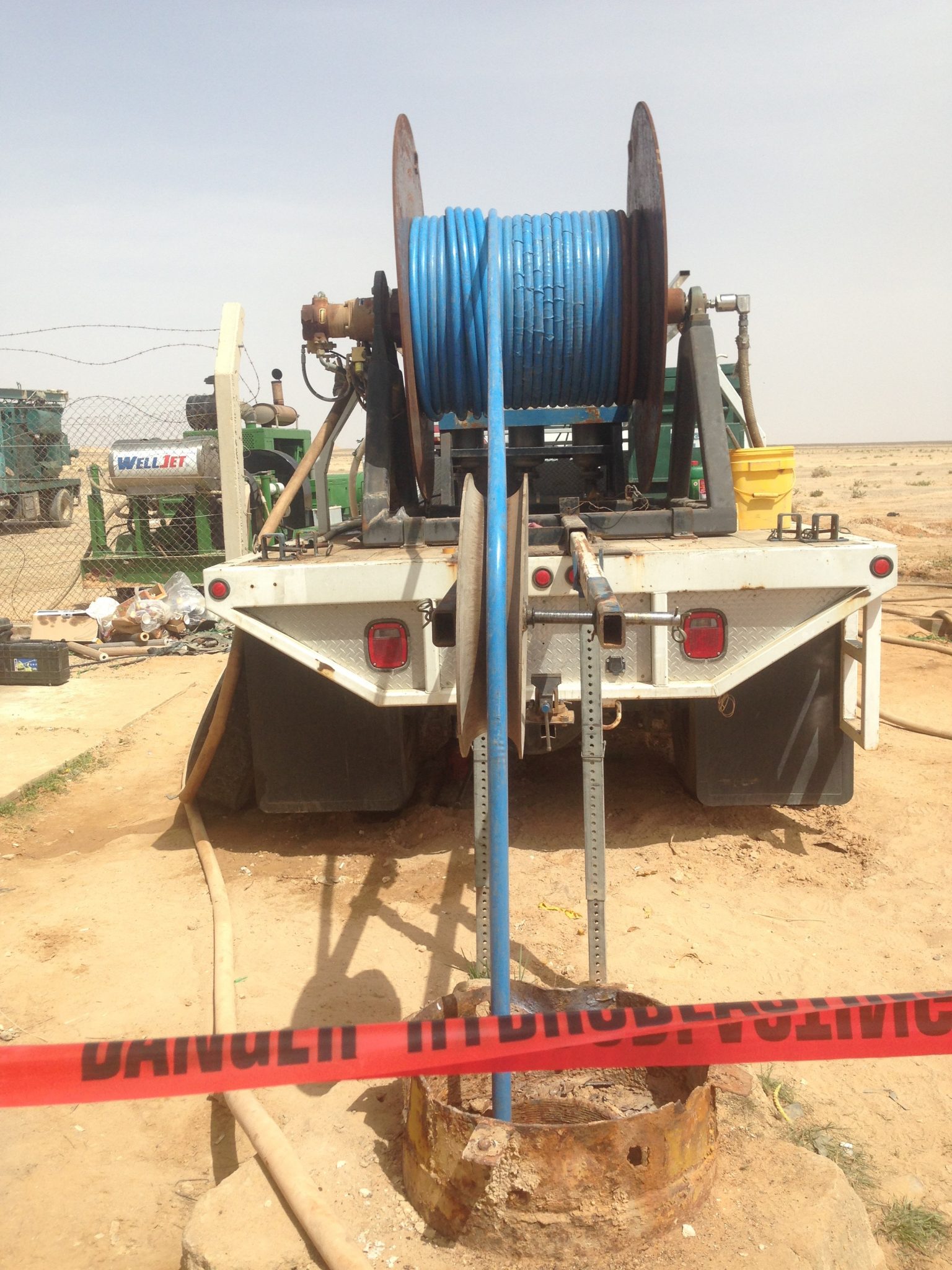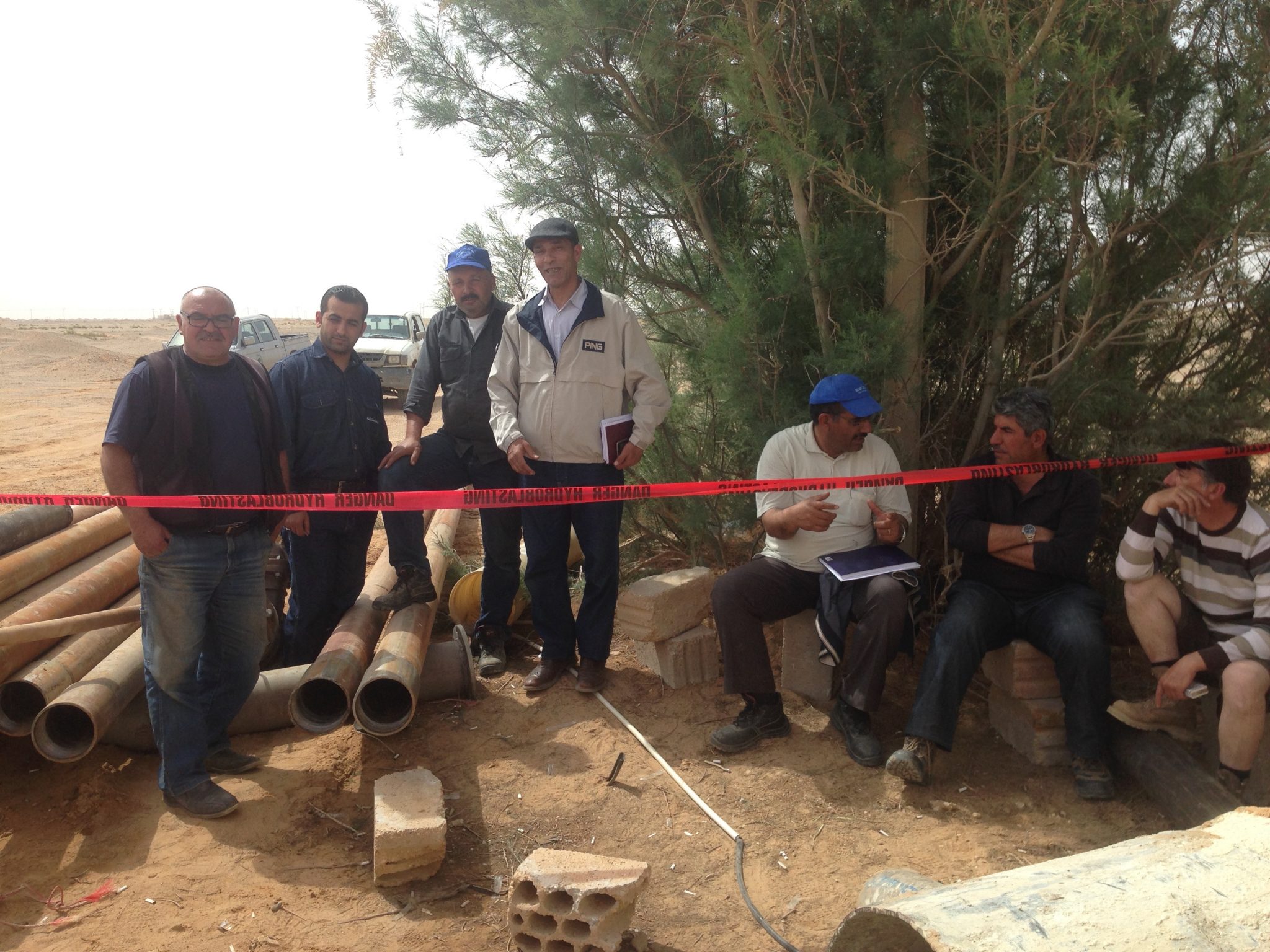 Jetting was followed by bailing and dual-swab surge-blocking to remove more than 130' (40m) of fill that came in from the jetting process: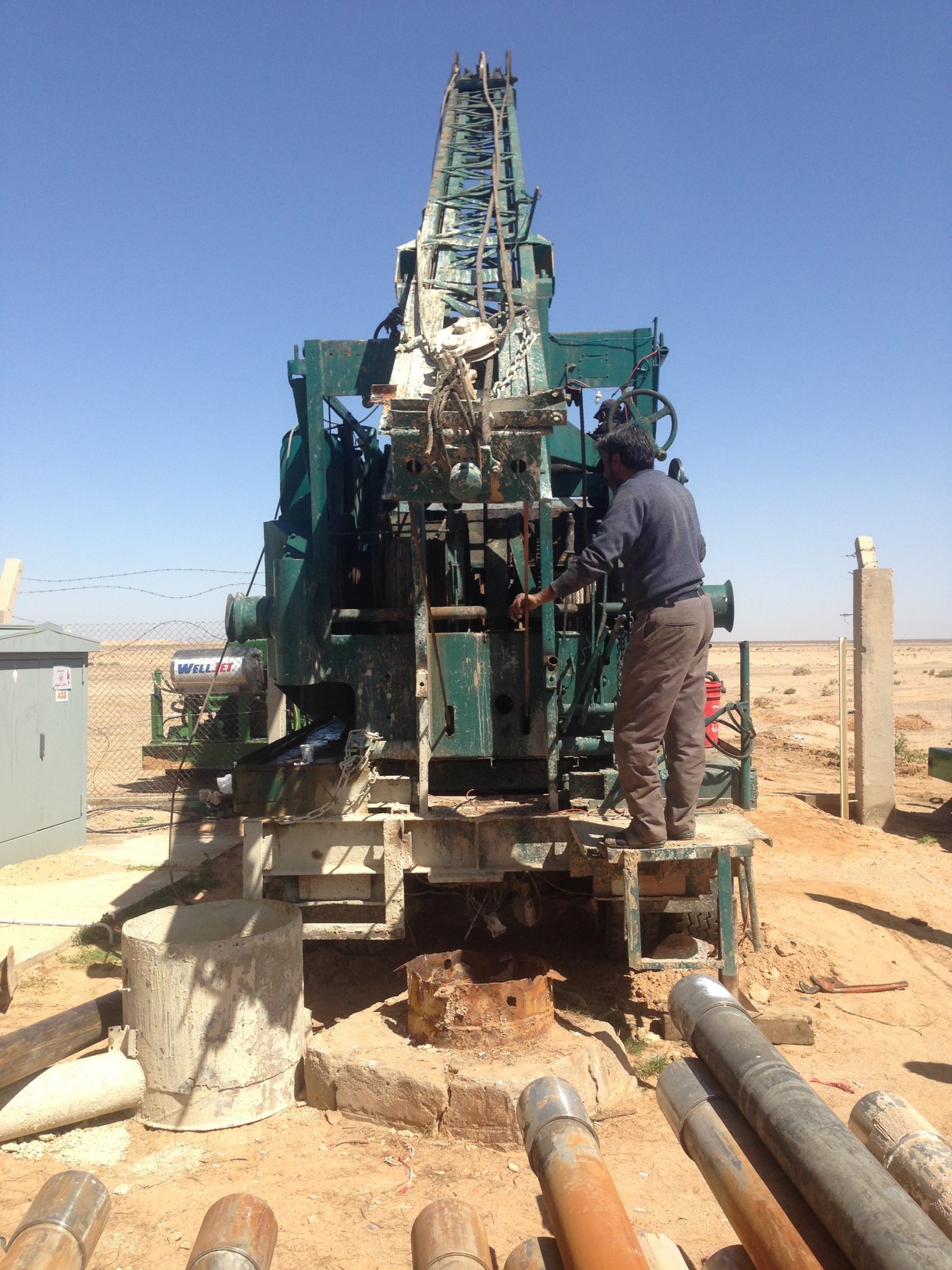 Because WellJet generates such tremendous energy out beyond the well screen into the gravel pack and near-wellbore formation, proper surging after jetting is essential to pull dislodged deposits into the well, from which they can be evacuated.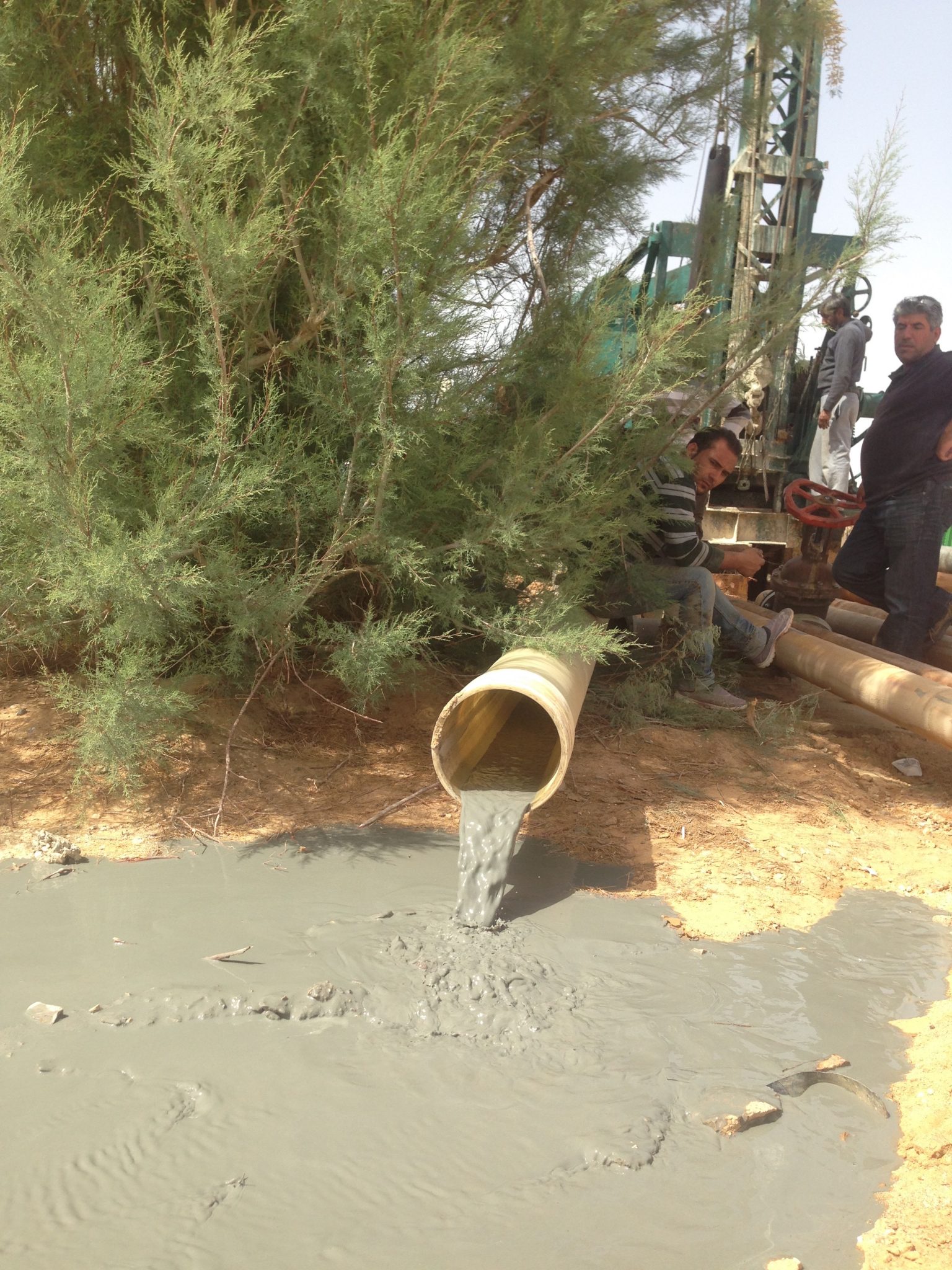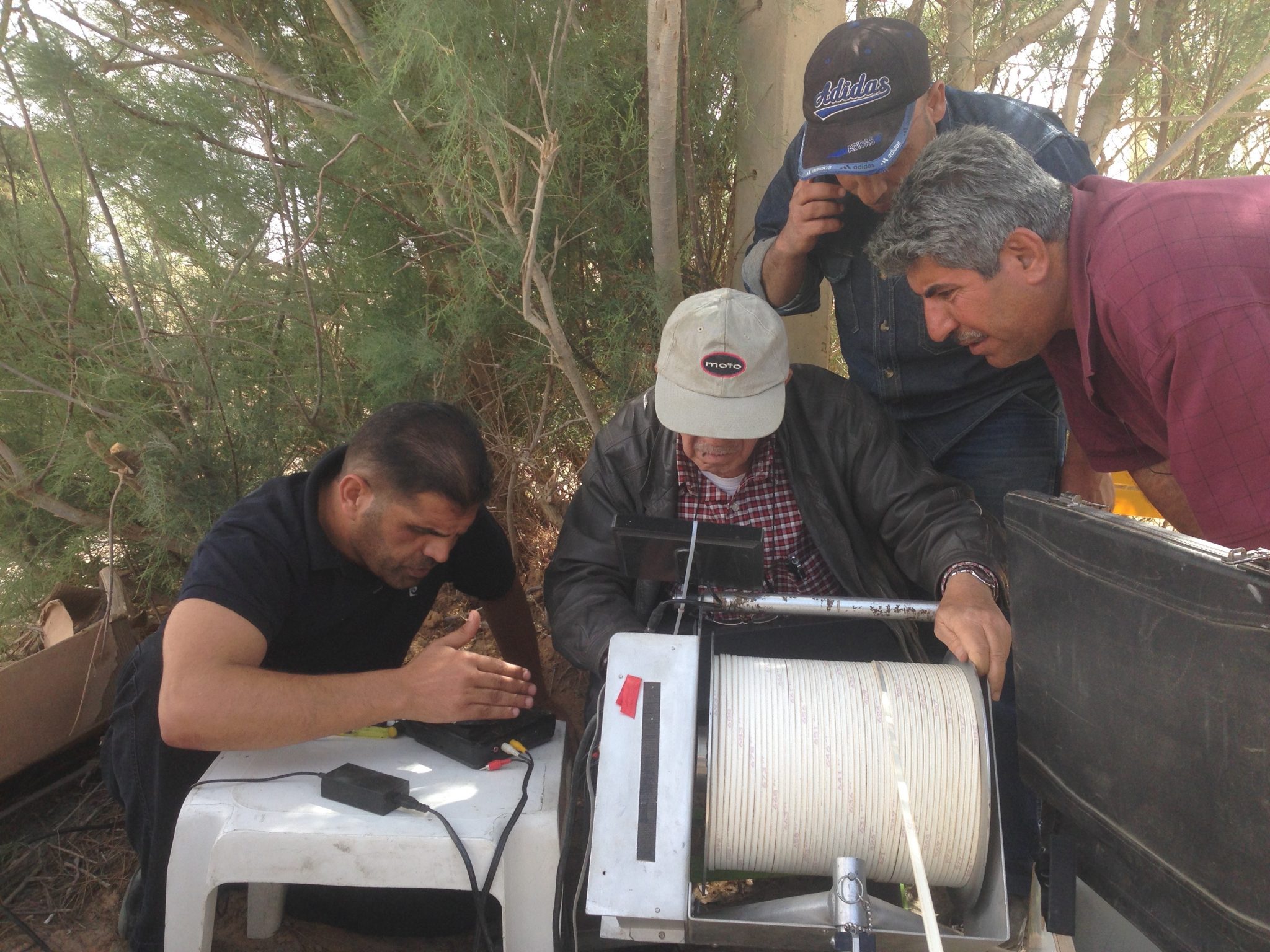 Before/After downhole video comparisons: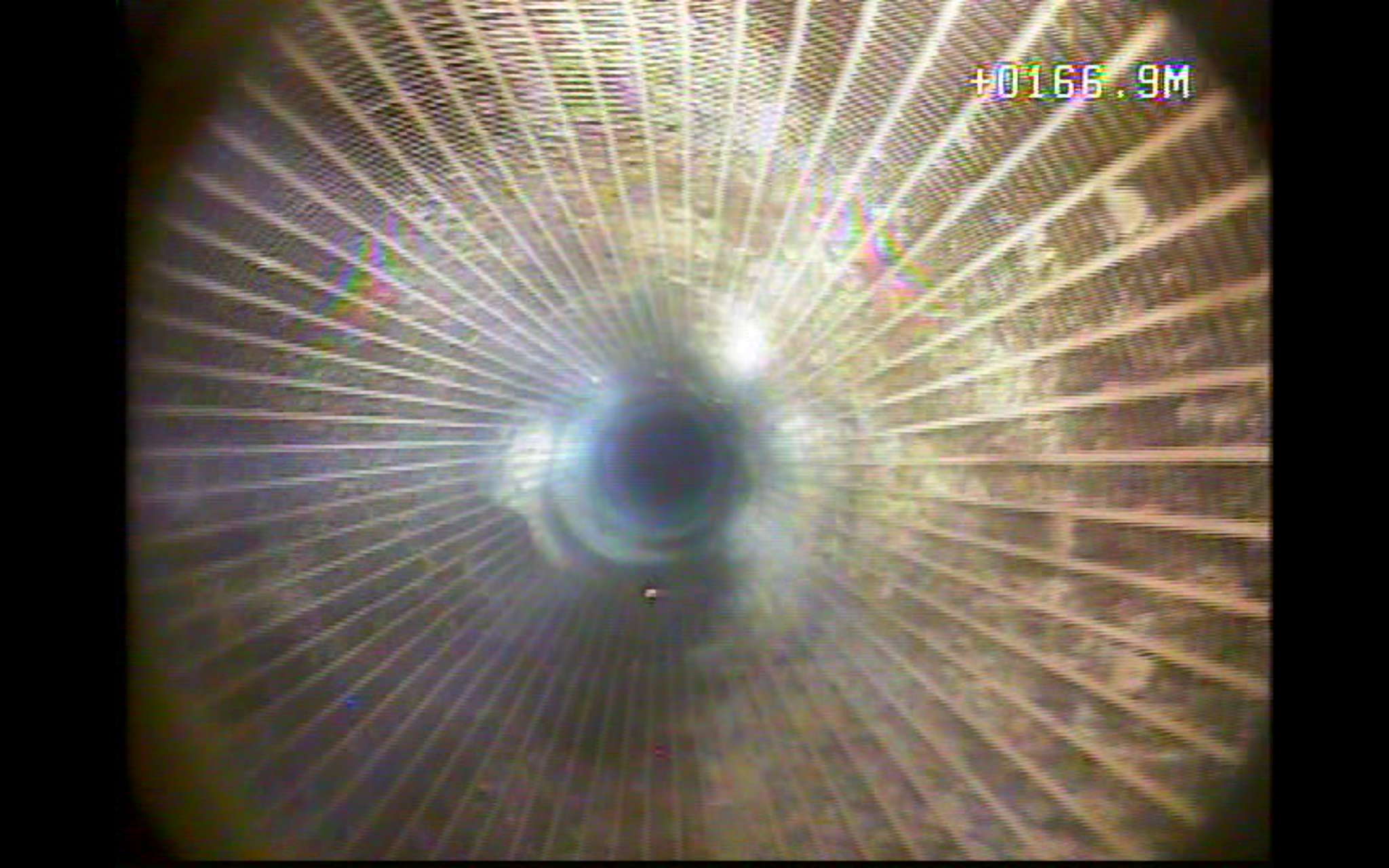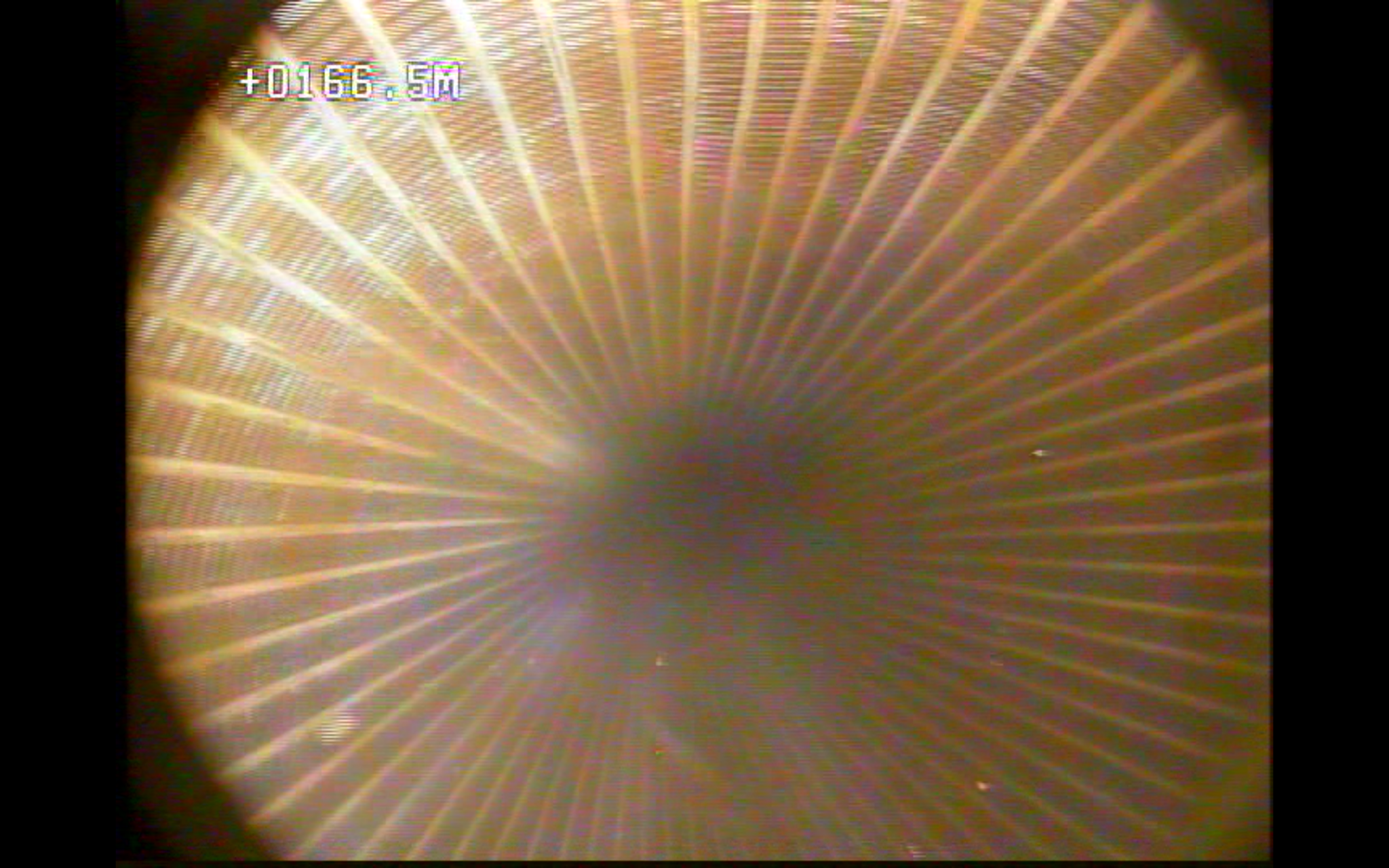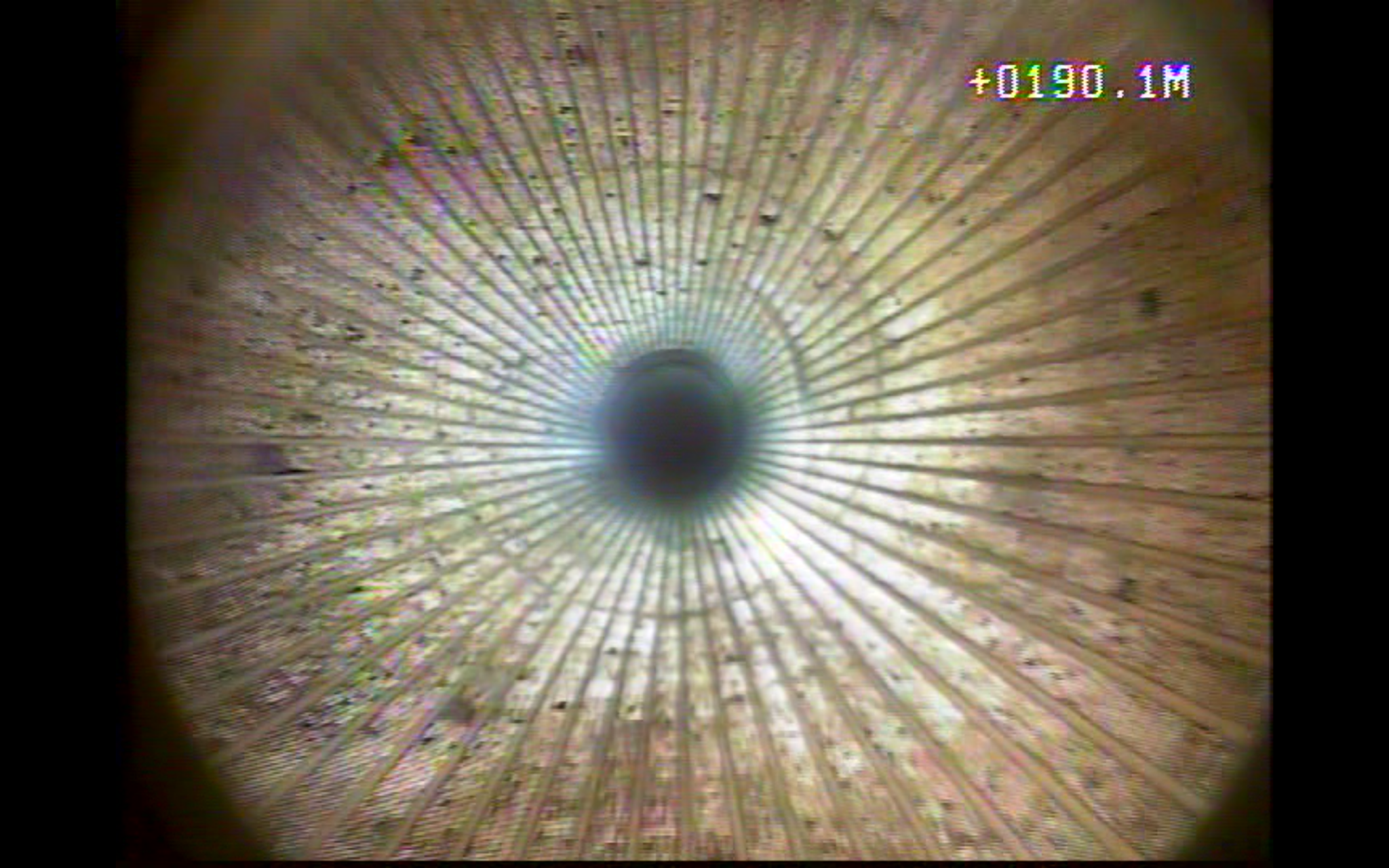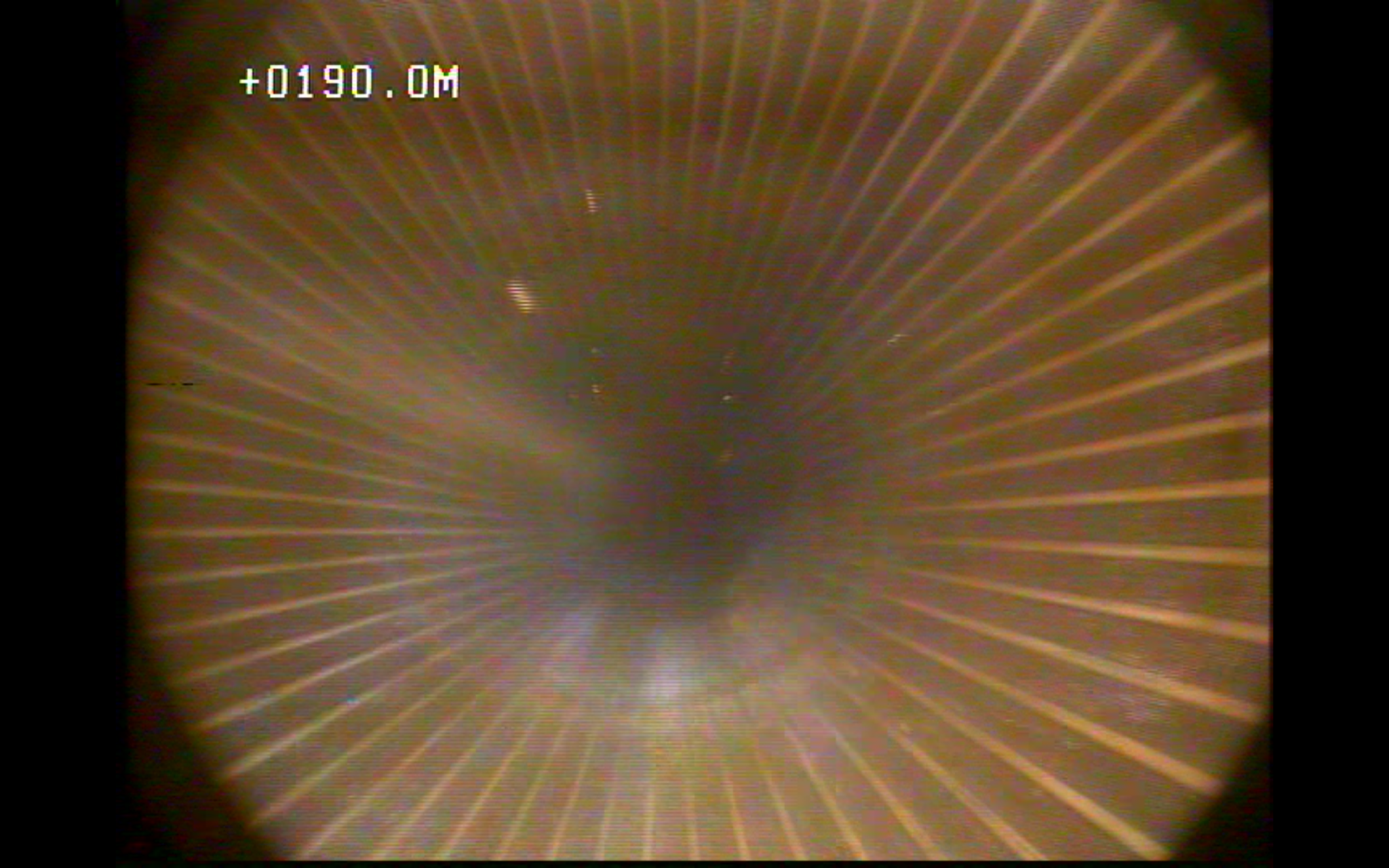 Test pumping was conducted over the next two days. To enable a direct Before-and-After comparison, the exact same pump equipment, calibration and specifications were utilized and followed as prior to the rehabilitation: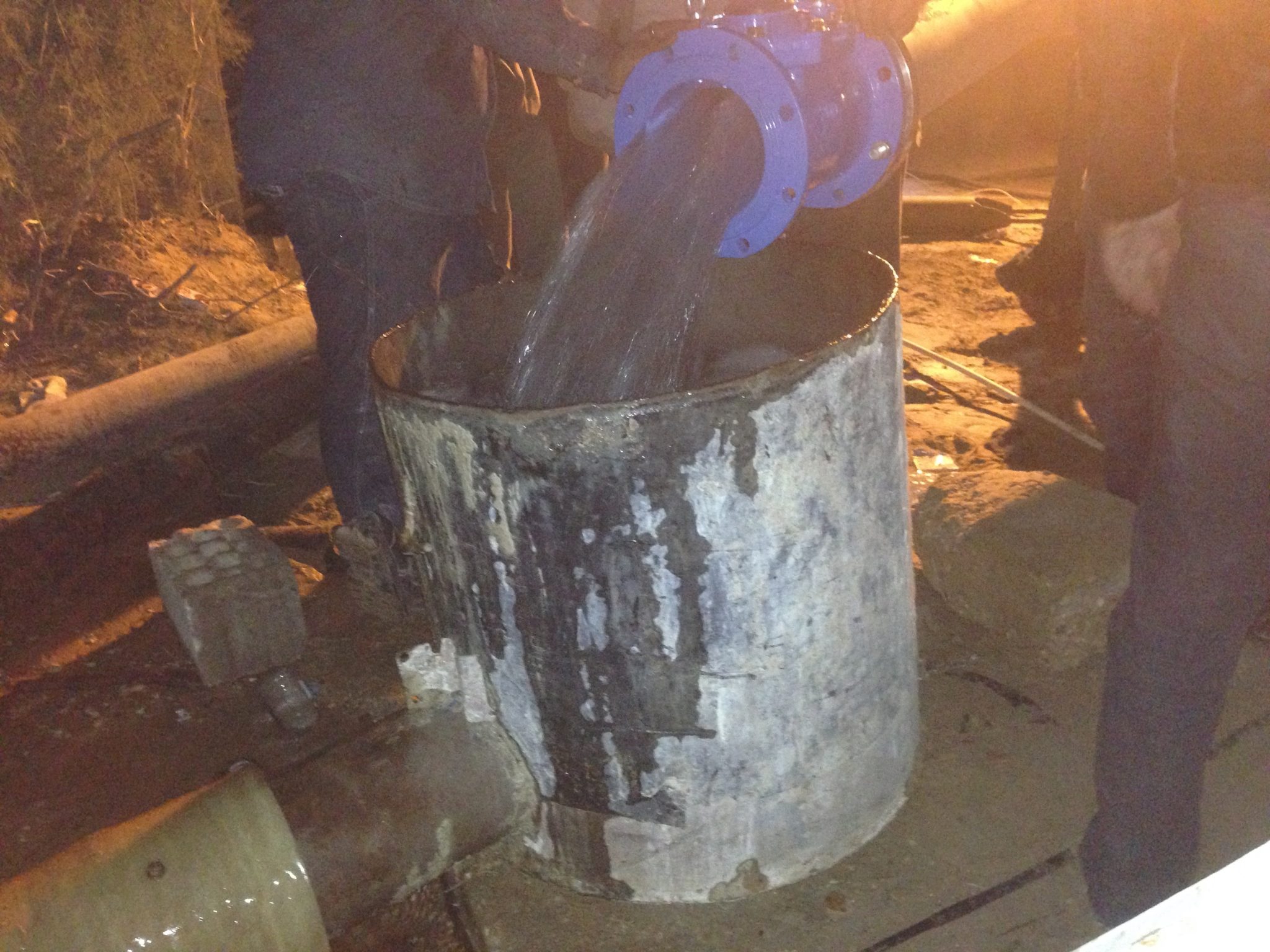 Test pumping 1st night: 20 minutes of black water… then clear.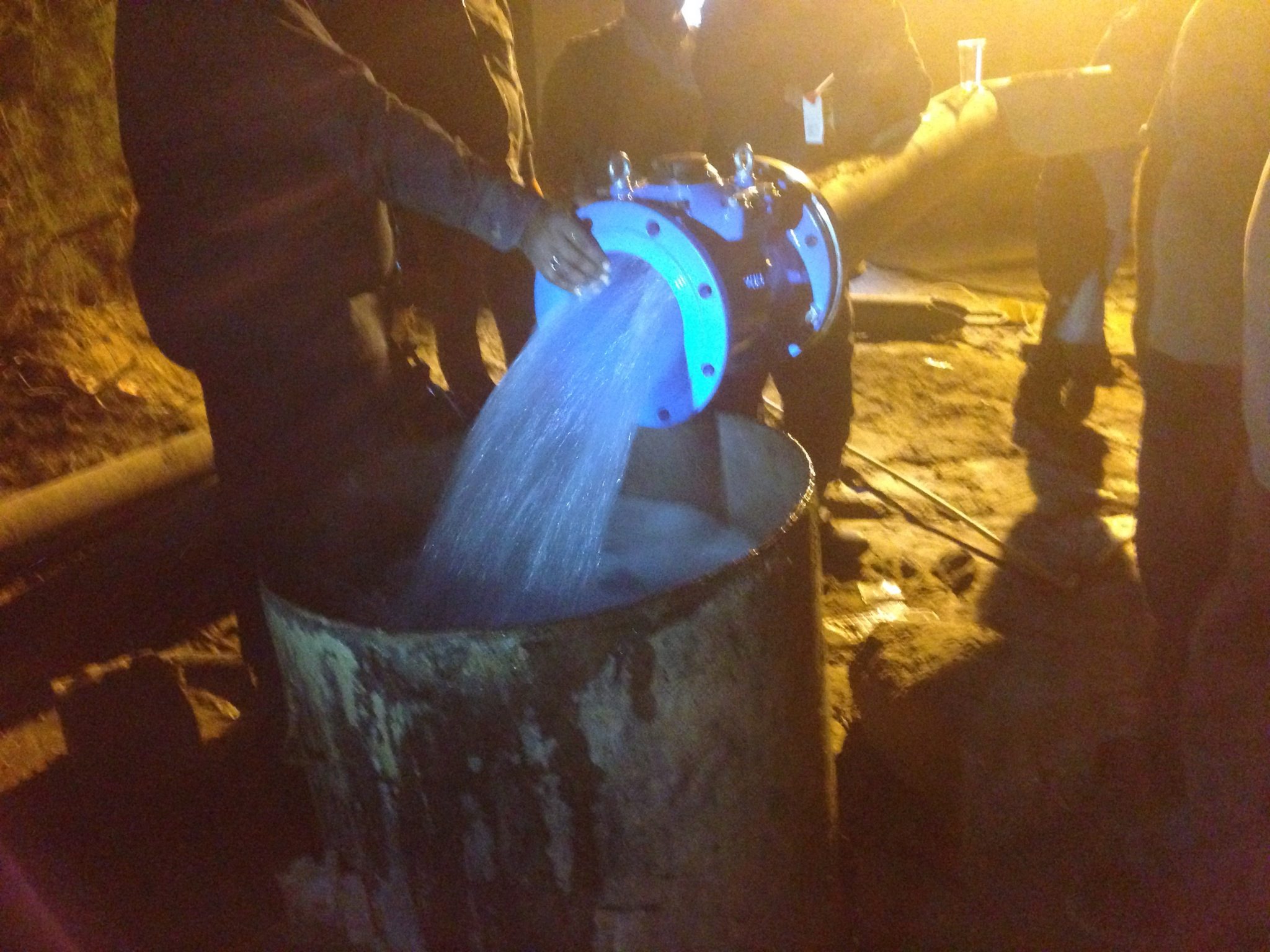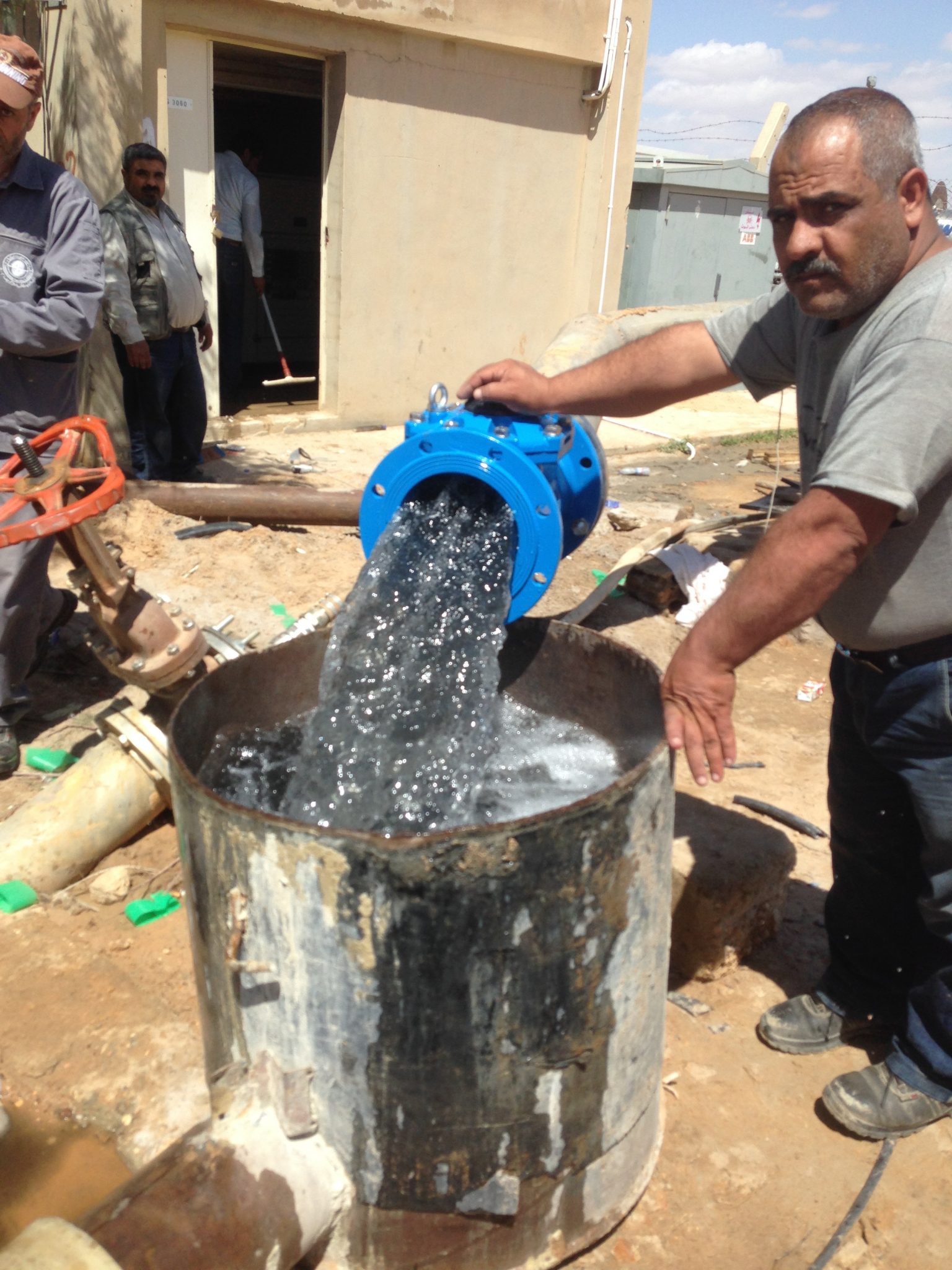 2nd day test pumping: 3 minutes of black water… then clear.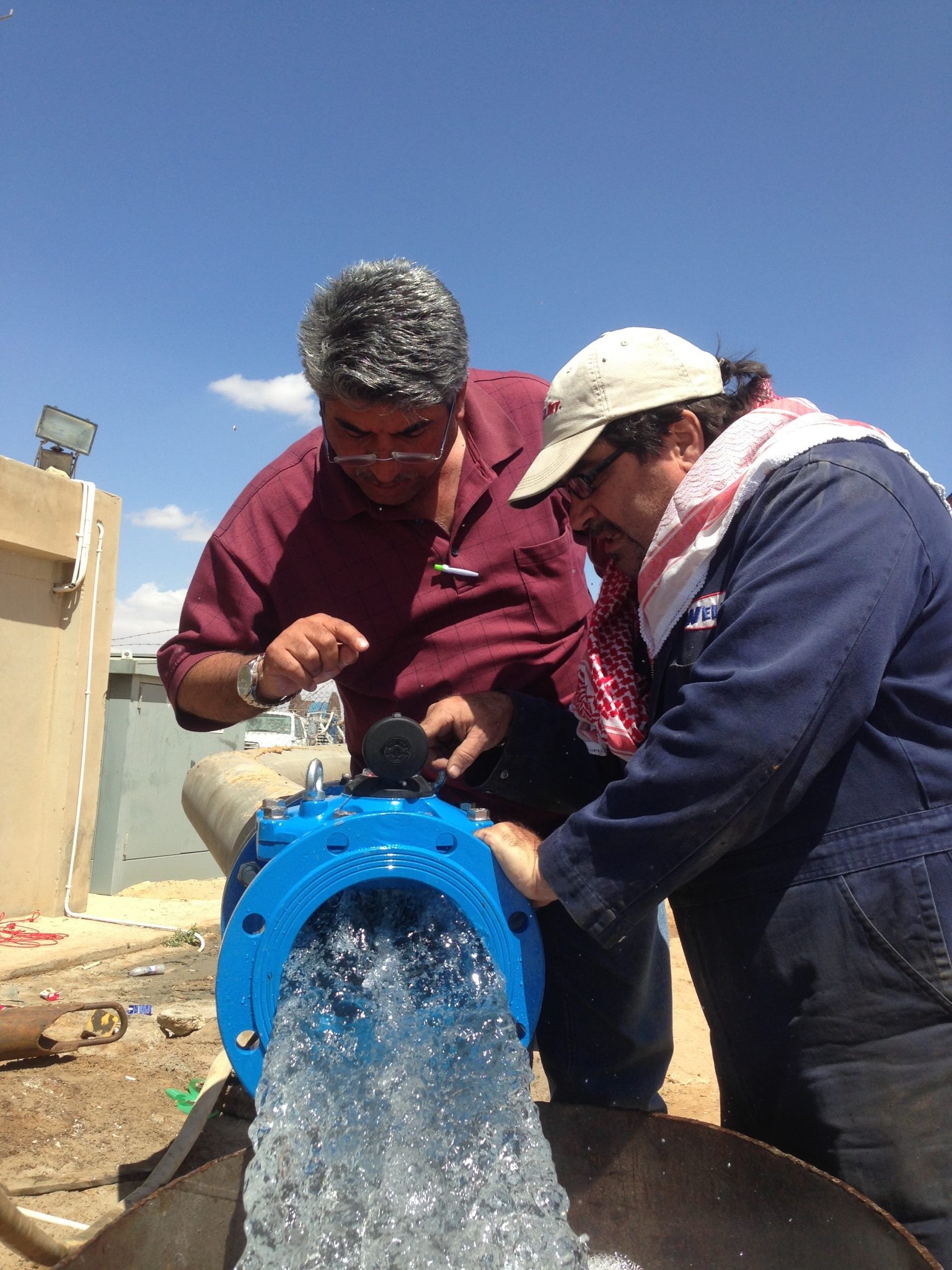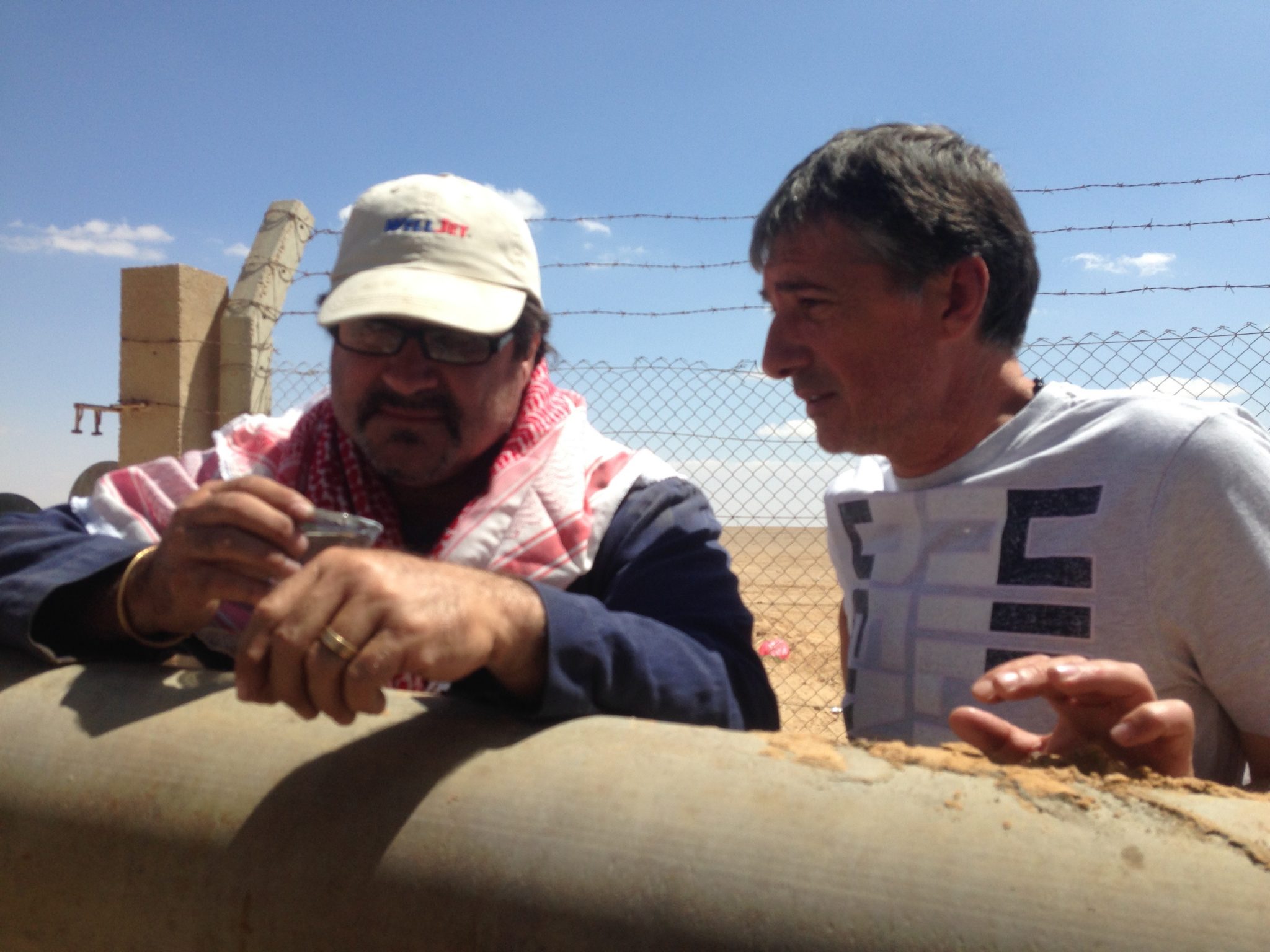 Examining post-rehab flowmeter results.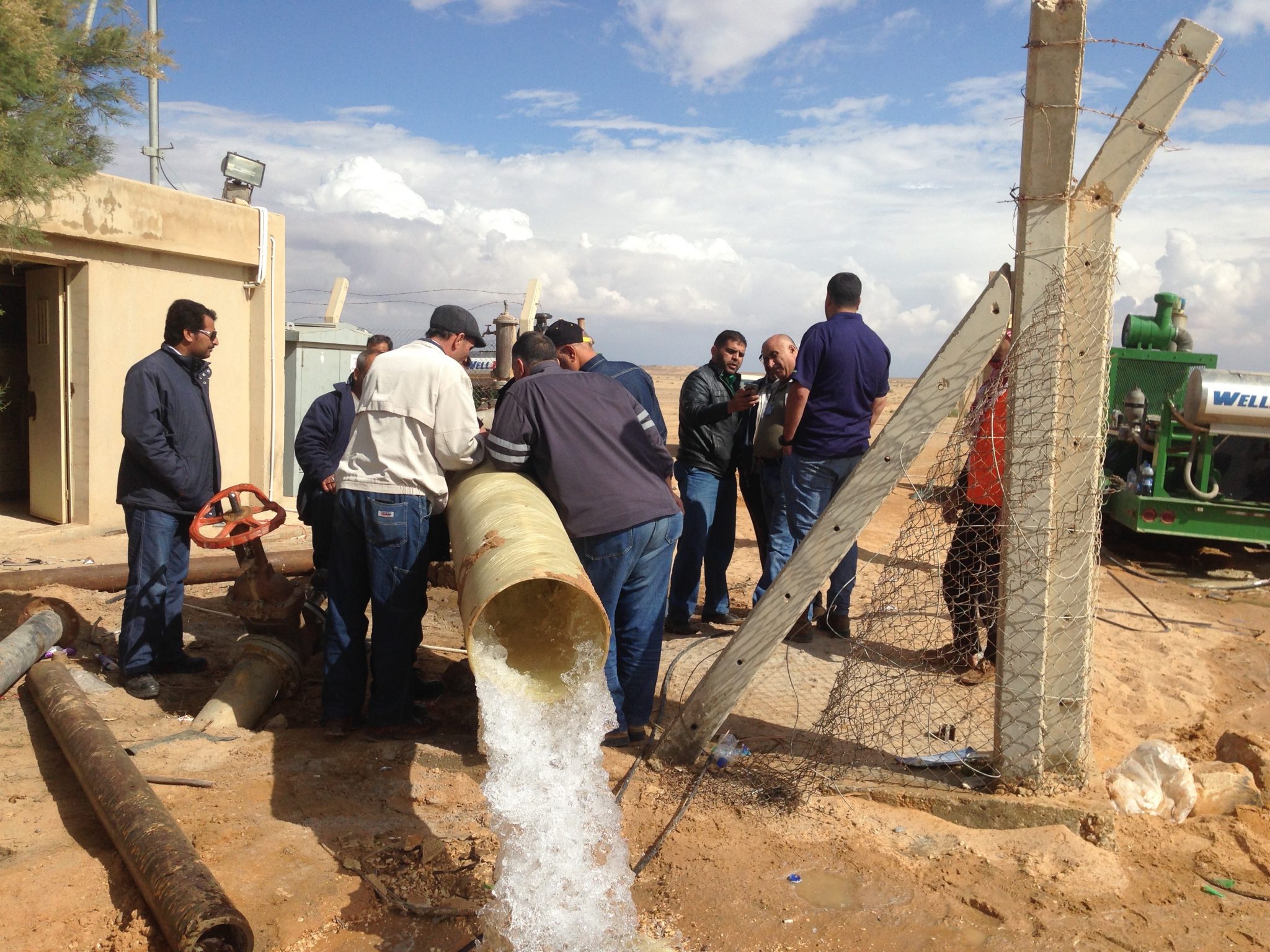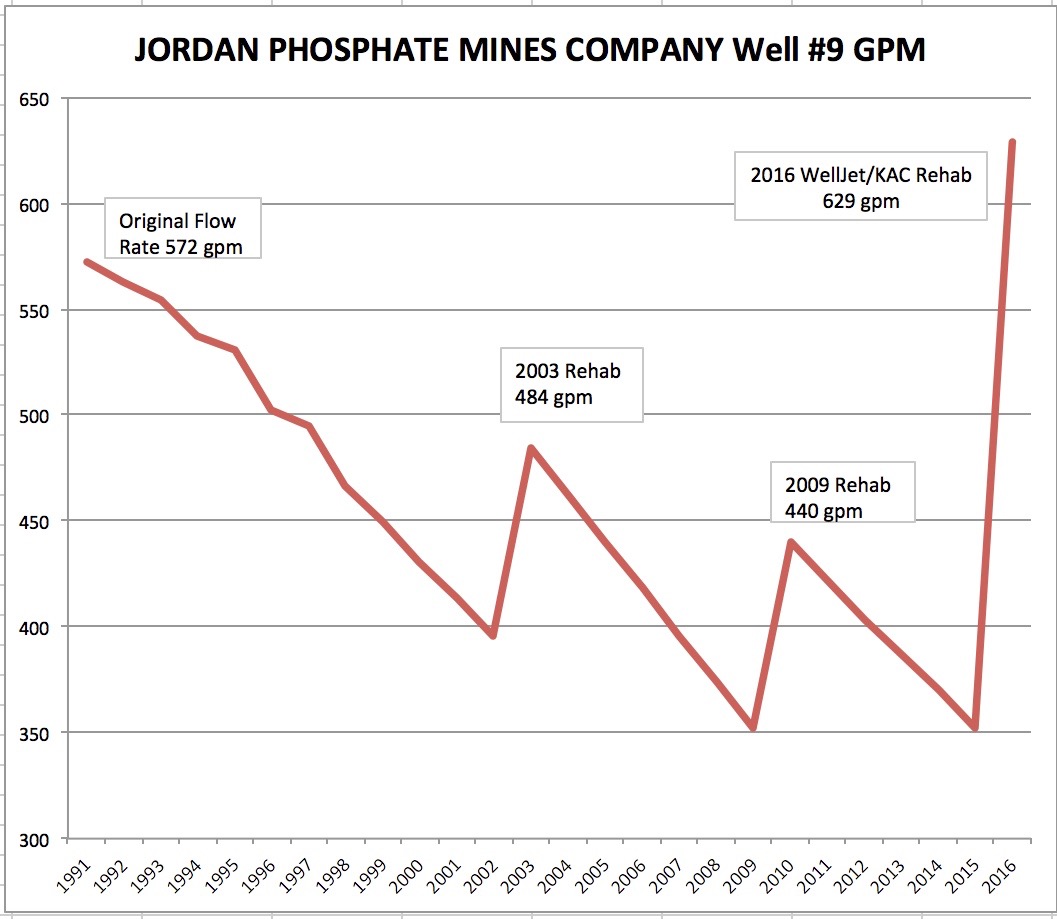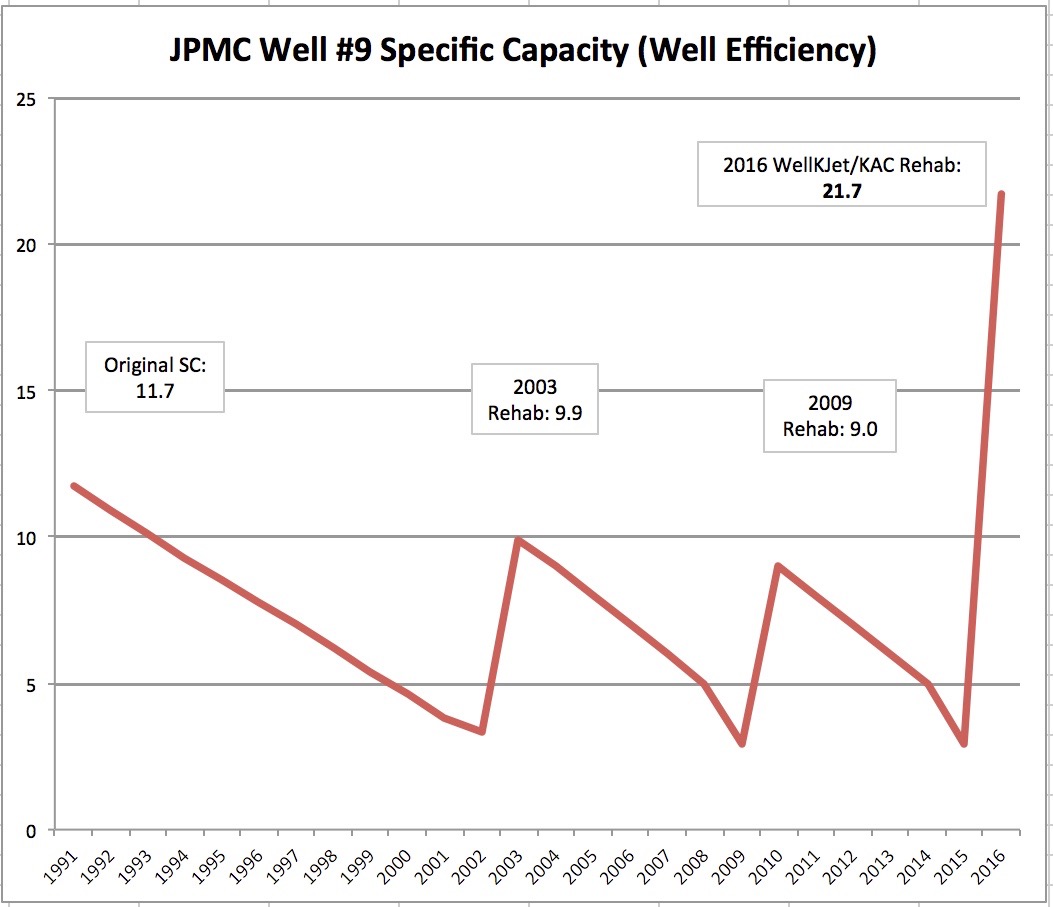 The significance of the above graphs is that the declining curves of output and efficiency are typical of most wells, and of the results of traditional rehabilitation methods. The WellJet process is sector-disruptive, offering like-new or better-than-new flow rates and yields – and unprecedented energy reduction and cost savings.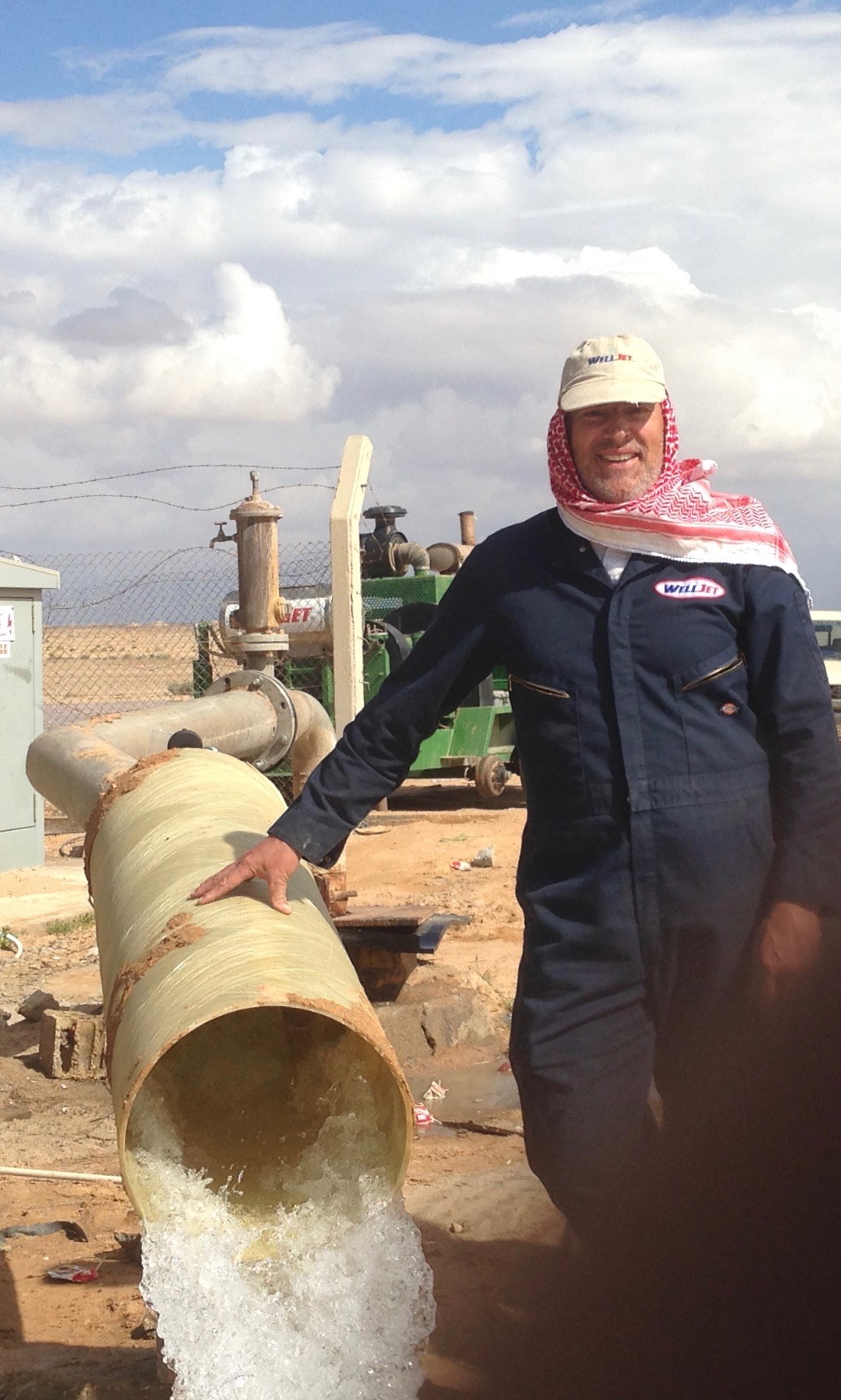 Post-Rehab Performance:
630 gpm (143 m3/hr) – drawdown 29' (8.8m) – 21.7 Specific Capacity
79% increase in water flow: 350 gpm (80 m3/hr) before, 630 gpm (143 m3/hr) after
648% increase in efficiency (2.9 Specific Capacity before, 21.7 Specific Capacity After)
JPMC Well #9 is now producing more water, more efficiently, and consuming less energy, than it did when it was brand-new 25 years ago.
Since the completion of rehabilitation work on Well #9, WellJet/KAC have completed two more JPMC rehabs – with similarly outstanding results.