Vision, Research, Experience & Craftsmanship Come Together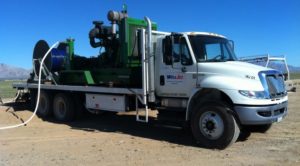 WellJet Company Founder & President Jeff Glass spent eight years developing the first generation of WellJet equipment.  Three years of field experience, working on nearly 200 well projects, taught Jeff a lot about how to make the next generation of units even more powerful, efficient and effective.
With the First-Gen unit deployed to the Middle East for work on the Disi Water Conveyance Project, the time for Next-Gen had come.  Working with his team of expert fabricators, Jeff created the first of the new units – which has recently completed highly successful field trials on a six-well rehabilitation project in Sandy Valley, NV.
With First-Gen, the pump truck and the reel truck were separate units.  In Next-Gen, these are combined on a single platform.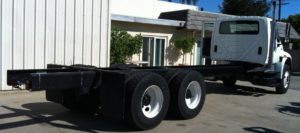 Jeff began with an International 4400 from Gibbs in Oxnard, CA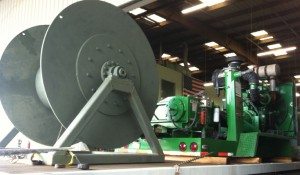 The new reel was mounted on the truck bed, along with the pump.
Many of the manual elements of First-Gen were upgraded hydraulically and electronically in Next-Gen.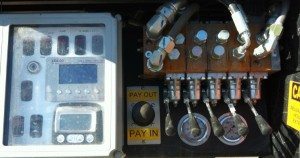 Electronic controls mean greater precision and consistency.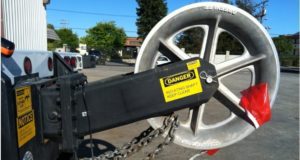 The new hydraulic boom makes for easier deployment of the tool + hose.
So, Next-Gen WellJet looks cool.  But does it work?
The great advantage to First-Gen WellJet technology is that it has been proven to work, time and again, in different seasons, climates and geography.  With Next-Gen, everything was new – except the concept of delivering highly pressurized water in a laminar flow downhole, to remove obstructions from inside water well perforation zones – and to break up harmful deposits in the gravel pack.  How would this new setup perform in the field, hundreds of miles from our shop?
Clients Phil and Layne Rosequist waited patiently – very patiently (as delivery of the equipment took longer than expected) – to find out.  Finally, Next-Gen ellJet was ready to roll out and go to work.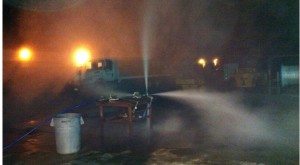 WellJet crews worked through the night to test the new system.

 Next-Gen WellJet unit at work.
Next-Gen operated flawlessly.
The new reel is beefier and more robust.  The new hydraulics are more powerful and easier to operate.  The new controls are more precise, more consistent, and enable greater flexibility in operation.  It is unusual for new technology to function without a hitch, first time out.  But it did – thanks to the skills of the team WellJet assembled for this project.
More Next-Gen units are in the pipeline, to meet growing domestic demand- and burgeoning interest from potential franchise partners around the world.