Three WellJet Rehabs Produce Outstanding Results
WellJet recently teamed up with LO Lynch Quality Wells & Pumps, and Desert Water Solutions, to rehabilitate three wells in Southern California. The combination of WellJet to break up obstructions, WellWorm to pull dislodged material from the gravel pack, and Redi-Clean Chemicals to kill bacterial colonies, once again proved a potent 1-2-3 process.
Thermal
This was a mild steel ag well; drill date unknown. 14" OD, TD 433', Louvers from 352-433. Prior to rehabilitation, production was 300 gpm with approximately 85' of drawdown – for a specific capacity of 3.5.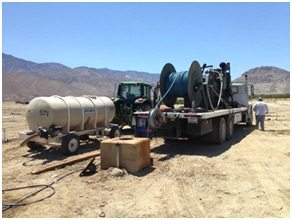 The result was 1,000 gpm – with less than 40 feet of drawdown, for a specific capacity of 25… an improvement in efficiency of 714%.