WellJet & Rottman Drilling Team Up on a Ventura County Ag Well Rehab
The Cole family knows avocados.  In addition to serving Calavo Growers as Chairman and CEO, Lee Cole has been avocado ranching in Santa Paula, California for decades.  Lee's son, Guy, manages the family ranch.
Despite the crippling drought that clutches all of California in its grim talons, the Cole Ranch is blessed with abundant groundwater supplies.  The "Big Well," drilled in 2000, is 365′ deep, with a diameter of 13.25″.  It produced in excess of 1,000 gpm when new, with 100′ of drawdown.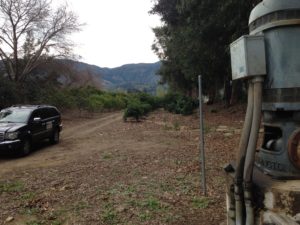 Recently, production and efficiency began to decline.  The bowls were lowered twice – from 140′ to 180′, and then again to 260′.  But even so, production dropped to less than 700 fpm – with drawdown exceeding 250′, so that the pump was breaking suction.
Early 2015 downhole video by Pacific Surveys showed a static water level of 64′, with vertical slot perforations from 86′ to the bottom of the well.  The slots were plugged, with nodules and heavy buildup on the casing.  Water sample analysis by SDK Laboratories indicated high manganese levels and some iron bacteria colonies.
After Rottman Drilling pulled the pump, WellJet came in to open up the plugged perfs and stimulate the gravel pack.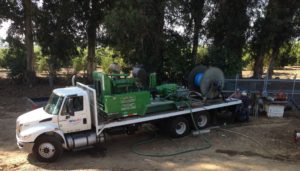 Rottman followed WellJet with their customary, highly effective dual-swab surge-blocking and pump development.
The results were outstanding.  "It turned out great," Guy Cole said.  "We picked up an additional 300 gpm at the same head pressure.  The well is basically producing the same as when new [1,000 fpm @ 100′ dd]."
Exactly the sort of outcome we always hope for – and plan for!