Smith Valley, Nevada features widespread ranches and productive farmland adjacent to stunning vistas of the Sierra Nevada Mountains.
It was to this picturesque setting that WellJet mobilized in May of 2015, to rehabilitate an underperforming agricultural production well for Pope Valley Ranches.
The mild steel well was drilled in 2012, to a total depth of 520′, with a diameter of 18″.  The static water level was 60′, with mill slot perforations from 140-520 (380′ of total perfs).  The well test-pumped 3,300 gpm – but horsepower limitations on the production pump pegged original online performance at approximately 1,800 gpm, with a drawdown of around 100′.
Recently, production began to drop off – and drawdown increased.  Prior to rehabilitation, the well was down to about 1,100 gpm.
Nevada-based drilling and pump contractor Hydro Resources invited WellJet to assist in rehabilitating the well.  Hydro and WellJet had previously teamed up on successful rehab projects in various NV locations.
WellJet (US Patent No. 8,312,930) utilizes highly pressurized water in a laminar flow to remove obstructions from inside the well casing and screened area.  The unique delivery mechanism enables projection of high pressure downhole, and the internal design of the nozzles allows penetration deep into the gravel pack to break up the harmful deposits that are often the true cause of inadequate performance.  The self-rotating head ensures that 100% of the perforated area is treated.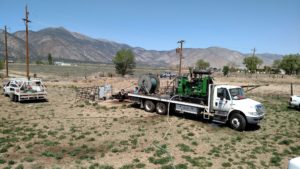 After jetting, static water level in the well rose 13′ – an early indication that water flow and efficiency in the well had improved.
Hydro Resources followed WellJet with dual-swab surge-blocking, which pulled the dislodged material from the gravel pack into the bottom of the well.  During post-rehab pump development, drill mud was pumped out for several hours – indicating that the jetting had reached through the gravel pack to the well bore where the mud cake had remained.
Production in the well has been restored to like-new conditions:  1,800 gpm, with a drawdown of around 100′.
The client's representative, Mike Bobrick of Pope Valley Ranches, was very pleased.  "The well is like new," Mike said. "I will recommend WellJet 100%."