CJ Logan Pump & Electric teamed up with WellJet to aid development in a new agricultural production well drilled by Superior Well Drilling in the Bakersfield, CA area.
The well was drilled in 2015, to a total depth of 700′, with an ID of 15.5″.  SWL was 200′.  A total of 450′ of perforations, alternating Johnson Well Screen with vertical slots, extended from 250′ to 700′.  The pump was set at 500′.
Normal well development methods produced unsatisfactory results:  the pump was breaking suction at less than 250 gpm, with a drawdown of 300′, for a Specific Capacity of 0.83.  Such performance would be woefully inadequate for the well's intended purpose of irrigating thousands of newly and soon-to-be-planted nut trees.
Colby Logan, of CJ Logan Pump & Electric, suggested bringing in WellJet to break up the residual drill mud that had created a barrier of mud cake between the formation and the filter zone, had cemented the gravel pack, and clogged the perforations.  Logan and WellJet had previously enjoyed successful collaboration on several well development and rehabilitation projects.
Prior to jetting, Logan introduced Cotey Chemical's Mud Nox dispersant into the well, to act as an aid to breaking down the mud during the jetting process.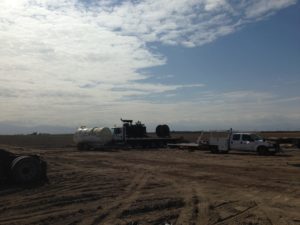 Following jetting, Logan re-set the pump and continued to develop the well.  The results were outstanding:  the well is now producing 1,100 gpm with "very little" drawdown.  Specific Capacity is now around 10.0 – a tenfold increase in efficiency.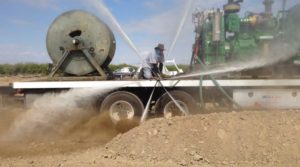 "Fantastic," said David Gilliland of Superior Well Drilling.  "Your system is superior to any I have seen used in California, and I will personally relate that information to anyone interested in jetting a well that is not producing, as our well was."
WellJet is very pleased to have concluded another successful joint operation with CJ Logan Pump & Electric.  We look forward to more projects together.