Taylor Drilling & WellJet Team Up
California Giant Berry Farms has been delighting fruit lovers with their delicious offerings for almost 50 years. From humble beginnings in Watsonville, to international success today, CalGiant prides itself on top quality, customer service, and charitable good works. In addition to their signature strawberries, CalGiant now grows blueberries, blackberries and raspberries, year-round.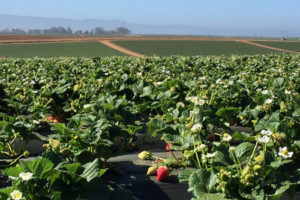 Berries, like every living thing on earth, need water. On CalGiant's farms in Watsonville, Santa Maria and Oxnard, that water comes both from surface supplies, and groundwater.
Groundwater production in today's modern economic and ecological environment requires efficiency as well as output. So when the Old Well on CalGiant's Rosemary Ranch in Santa Maria went down, it was time to rehabilitate. The 16" diameter, 430' deep well had gone online in 2013, producing 500 gpm. It was now producing less than 100 gpm of output, on a pump setting of 421', with a static water level of 181' — for a specific capacity of just 0.42. Worse yet, it was breaking suction.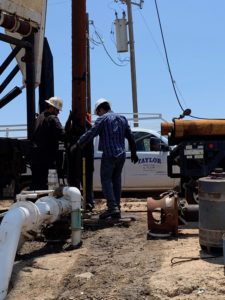 CalGiant called Taylor Drilling & Pump, the family-owned, full service water well drilling and pump company that has been serving the Central Coast for many years. Taylor pulled the pump, and had downhole video performed by Boredata.
The video showed heavy scale buildup on the blank casing, and throughout the louver-perforated area from 190'-430', increasing with depth.
Taylor invited WellJet to perform its patented high-pressure waterjetting process to remove the scale, open plugged perforations, and stimulate the gravel pack to restore free water flow.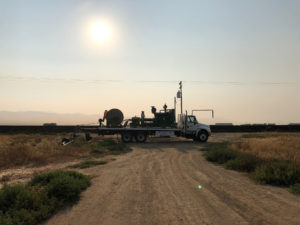 Taylor followed the WellJet process with swabbing, to mobilize dislodged material from the gravel and near-wellbore formation into the bottom of the well.
Then the well was re-videoed, and the pump reinstalled.
Downhole video before-and-after frame comparisons show the effectiveness of the combined jetting and swabbing process:
But as the proof of the pudding is in the tasting, the measure of effectiveness in well rehabilitation is in performance and efficiency:
Output Before Rehab: breaking suction @ 100 gpm.
Output After Rehab: 500 gpm.
Increase: 500%
Drawdown Before Rehab: 240'
Drawdown After Rehab: 114'
Improvement: 47.5%
Specific Capacity Before Rehab: breaking suction @ 0.42
Specific Capacity After Rehab: 4.4
Increase: 1,044%
The Rosemary Old Well is now performing as it did when first online.
WellJet has been pleased to team up with Taylor Drilling & Pump on several successful rehabilitation projects.