RESTORING WELL EFFICIENCY IN SANTA MARIA, CALIFORNIA
In the heart of California's Central Coast, halfway between the wineries and barbeques of Santa Maria and the golden sands of the Guadalupe Nipomo Dunes National Wildlife Refuge, lies the fertile agricultural acreage of Betteravia Farms/Bonipak.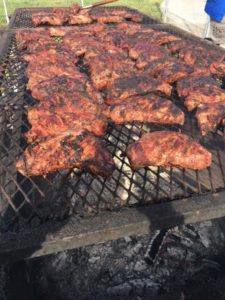 Since the early 1930s, the Ferini and Ardantz families have poured their love and sweat into feeding America by producing some of the nation's finest conventional and organic vegetables, from bok choy to romaine hearts.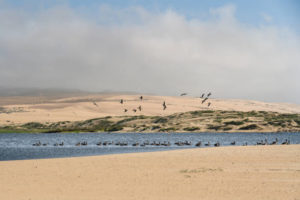 Mindful of their legacy as stewards of the land, Bonipak CEO Joe Leonard has said, "As a family-owned farm, welcoming in our fourth generation of farmers, we understand the importance of preserving our land and natural habitats for generations to come. We are proud to have accomplished a model for cooperation between agricultural businesses and conservation agencies in Santa Barbara County."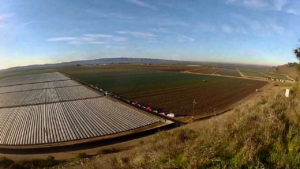 Like so many farms in California, Betteravia's bounteous output depends not just on the skill of its practitioners and favorable soil and climate conditions, but irrigation supplied by groundwater wells. Efficient, productive wells are essential for the business of feeding America to flourish.
Betteravia's Well #1532 is mild steel well with 13.5" ID and total depth of 411', with a static water level of 100', and vertical mill slot perforations from 282' to 411'. #1532 had historically produced 1,500 gpm, with a Specific Capacity of 20. When a well becomes less efficient, the cost of and energy consumed during pumping groundwater to the surface become greater. The pump works harder to produce the same volume, causing greater wear on pumps, motors, bowls and the well casing itself. By the spring of this year, the well was still producing 1,500 gpm – but drawdown was over 150' and Specific Capacity was under 10 gallons per foot of drawdown, less than half of historic efficiency.
Taylor Drilling & Pump, one of the busiest and most successful companies Santa Barbara County, was tasked with rehabilitating Well #1532. Downhole video provided by Boredata showed very heavy scale and buildup throughout the well, with perforations plugged and nodules in evidence.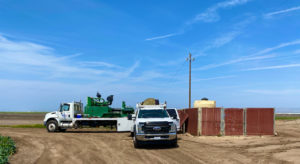 Taylor brought in HydroPressure Cleaning, Inc. to use its WellJet® (US Patent No. 8,312,930 B1) high-pressure hydrojetting process to open up the well and restore efficiency.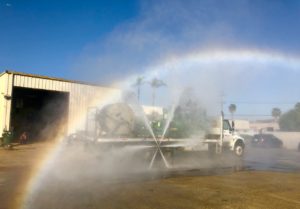 WellJet® utilizes highly pressurized water in a laminar flow to remove surface encrustation, open plugged perforations, and generate energy into the gravel pack and near-wellbore formation to break down harmful deposits and restore free water flow.
Each element of the WellJet® process – tool size, pressure, retrieval rate and rotational speed – is adjustable to suit downhole conditions. WellJet® typically operates at 15,000-20,000 psi in steel wells, and 4,000-6,000 psi in PVC wells. As yield strengths of steel casings ranges from 35,000-55,000 psi, WellJet® removes even the toughest mineral and bacteriological deposits without harming intact steel.
WellJet®, which has enjoyed successful rehabilitation and new well development collaborations with Taylor Drilling on dozens of wells over the past several years, treated Betteravia #1532.
Before/After downhole video frame grabs reveal visual evidence of the effectiveness of the process: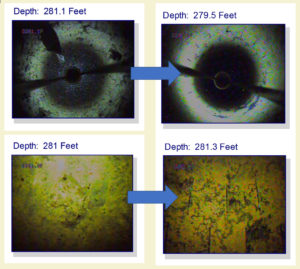 But as we all know, well performance is not a beauty contest. Whether well casing and perforations appear clean and open on video, the improvement in efficiency cannot be measured until it is… measured!
After jetting, Taylor Drilling reinstalled the pump.
Betteravia #1532 is now producing its customary 1,500 gpm – but with a drawdown of just 28', for a Specific Capacity of 53.6 – an improvement of more than 450% over pre-rehabilitation efficiency.
Generally, WellJet® recommends following jetting with dual-swab surge-blocking and airlifting to remove dislodged material from the gravel pack and bottom of the well. In this particular case, time did not permit those follow-on procedures. Yet the results were still successful.
"This one was all WellJet®," said Sam Taylor of Taylor Drilling.
HydroPressure Cleaning, Inc. is pleased to have been part of this successful WellJet® collaboration with Taylor Drilling. We look forward to continuing to serve the well owners of Santa Barbara County, whose vital agricultural work provides sustenance for the people of California – and our great nation.